This page/post is placed here as an archive of 31posts.com project.

Last night we created our own 31Post YouTube Channel.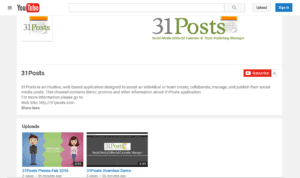 Not a lot of content in there yet. The first two pieces we have include:
* Promo Video – https://youtu.be/8dvVU66WfFw
* Added Demo Video: https://youtu.be/VBSf5zADlls
We plan to posts many small how-to-videos as well as much more…
Side note: With every new YouTube Channel, a Google+ page is also created.. So now, we have a 31Posts Google+ Business Page as well.
A Brief Overview of 31 Posts – An intuitive, web-based application designed to assist an individual or team create, collaborate, manage, and publish their social media posts.
Keywords included: 31Posts, Social Media, Social Media Content Manager, Social Media Manager, Social Media Dashboard,Editorial Calendar,Social Media Editorial Calendar