Outside a couple of friends and a family member's birthdays, March 20th does not hold any particular significance in my life. I think that changed today, thanks to Facebook memories.
It was a Saturday morning – a day like any other in a COVID-world, and we were getting our day going. My back was hurting a bit, so I decided to have coffee in the spa to relax and loosen it up a bit. Although still early, the day was shaping up to a beautiful one with blue skies and getting warmer by the minute. Cold nights warm days now in the Arizona spring. When I was done with the spa, I went to sit to the side of the pool, and as I was looking at the setting, I thought to myself, let's take a picture to remember this moment. After a few minutes, I reopen my phone, and in the usual order, I proceed check my social media. Twitter, Instagram, LinkedIn and finally Facebook last.
Right there at the top of the feed there was the Facebook memory that triggered a number of thoughts, emotions and memories. It was a picture just like the one I had just taken, in a different context, location and time. A snapshot of the past. It was a picture of March 20th, 2015. Wow – I thought to myself –
I quickly showed the photo to my wife and (sorry love but…) she said yeah and said "Yeah – that was a great view from our porch in that house. I missed that view". Nothing wrong with her thought, but we were so very far apart in our wave patterns..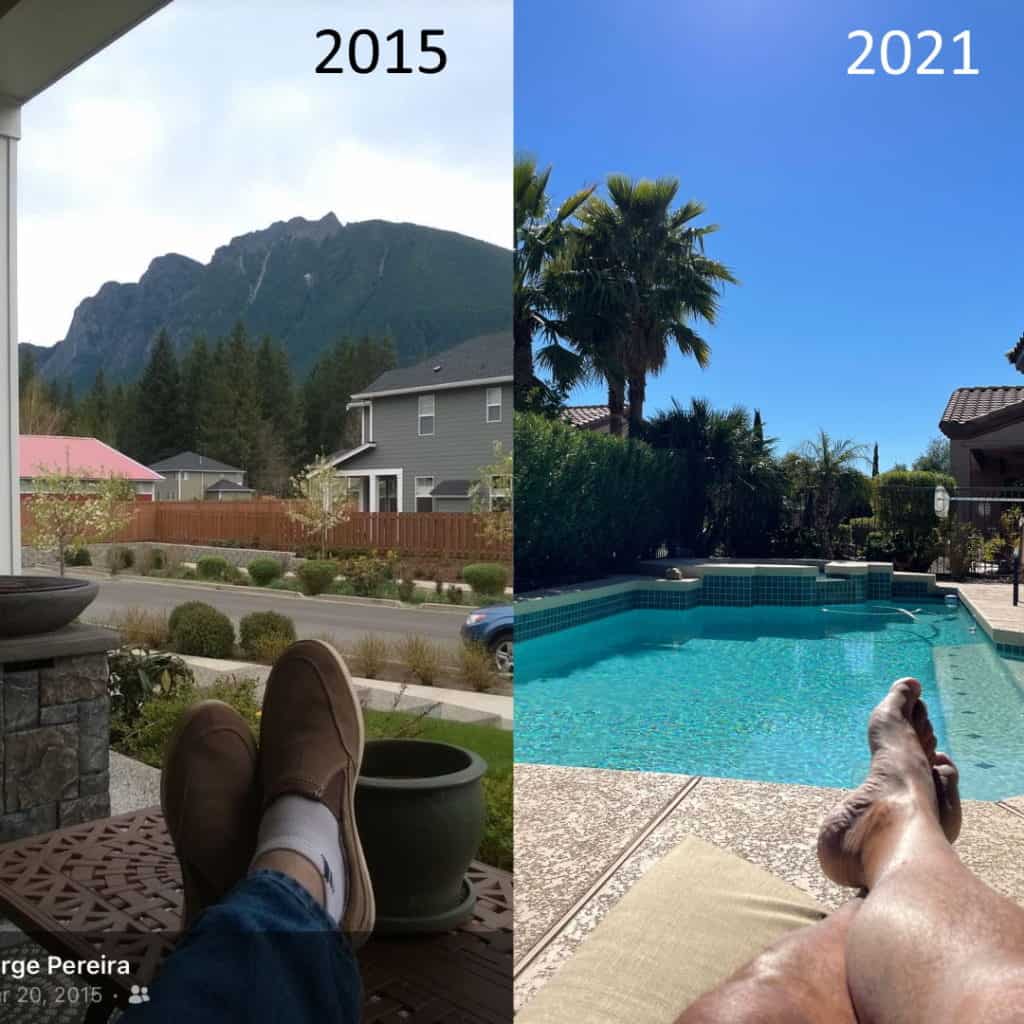 To me the two photos brought back how thankful and lucky I am, how fast time flies, how much life has transpired in just 6 years. A flood of thoughts came into my mind. So much that I know my writing simply is not able to capture or convey.
The first thing that came to mind was how grateful for such an incredible part of the journey. So thankful to the family (especially wife and kids but also mom, dad, brother, sister nephews and the friends that are family) and decisions made along the way. What a lucky man I am!
We have had those view for about a year on each house at the time of the photo was taken
Was traveling weekly: planes, hotels, rental cars.
So many trips, parties, movies, books, Amazon purchases!
My mother was alive back then
I was making some fun podcasts (which for some reason I stopped)
the words pandemic, social-distancing, quarantine, or lock-down did not exist in my vocabulary
A clear reminder, at least to me, to keep taking those moment snapshots !