BIOS Device Driver Updates with MDM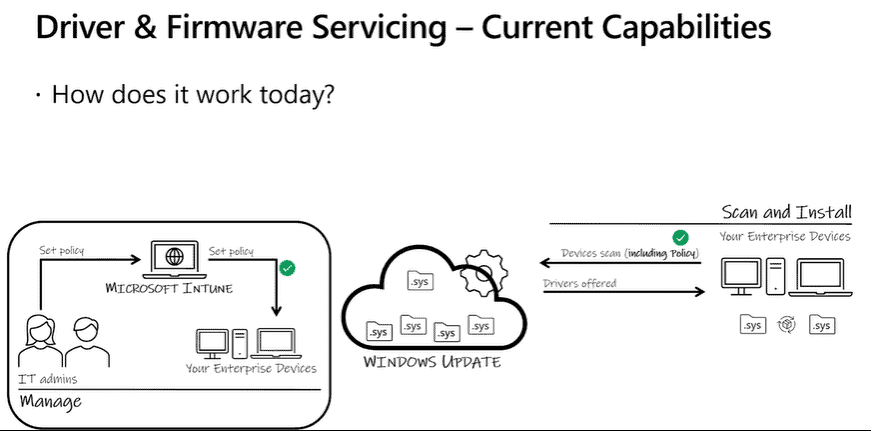 BIOS and driver updates are a very big challenge facing many organizations today. In fact, so many of them do not patch anything after initial deployment, and only if the device fails, they think of applying patches. This has never been a best practice, but with the introduction of Windows 10 and Windows as a Service (Waas), the lack of a update strategy for BIOS and drivers is a big NO-NO, and it needs to be solved. Organizations must think of:
For best and most secure performance: Windows 10 assumes current BIOS and drivers are current and updated.
Currently, modern device management relies heavily on device manufactures tools to update BIOS and drivers. If you have a mixed environment, that means you have to make sure you push the OEM utilities over to the devices as part of your initial setup sequence / profile.
Currently Microsoft does not have a service to push or update OEM or third party device driver or BIOS updates within the cloud native solutions, and their their guidance is to rely on specific OEM tools to keep driver / BIOS updates.
They are aware that this is a challenge in the new modern device management model , and in the recent Microsoft Ignite (March 7, 2021) they announced a new deployment service for drivers and firmware – a service that will begin to be piloted in the second half of 2021. Blog post: Microsoft Tech Community: Introducing a new deployment service for driver and firmware updates.
A great recent blog post on the upcoming Intune feature regarding managing Driver Firmware updates policies (Approve / Schedule / Suspend ) by industry veteran Anoop Nair can be found here. Please note his disclaimer comment:

More recently Microsoft published a post with the video that explains how his will work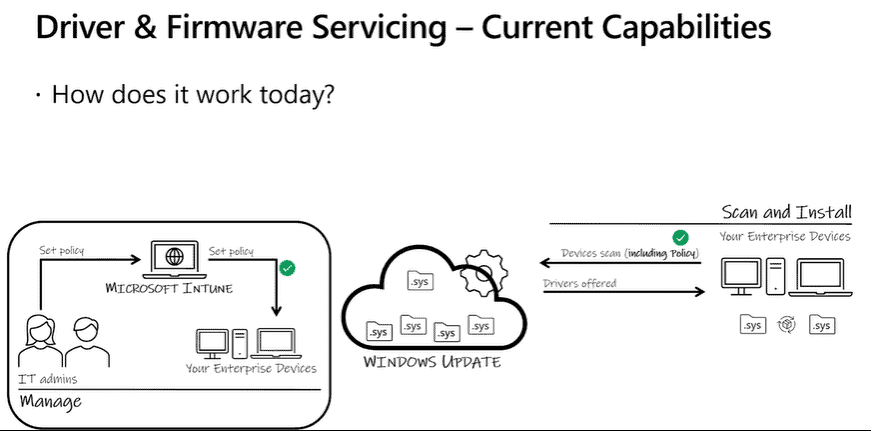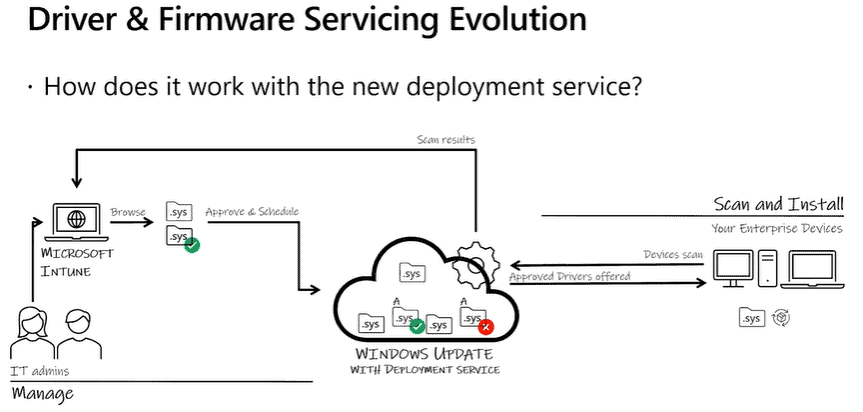 Pretty cool! Many organizations are anxiously waiting for these capabilities!
As far as Dell Technologies, as always, I am sure we are working closely with Microsoft to enable this. In the meantime, for Dell products the tool to use is Dell Command | Update and Dell Support Assist and is best practice to proactively update drivers and BIOS and they get their updates from support.dell.com For the latest published packs you can check: https://www.dell.com/support/kbdoc/en-us/000180534/dell-family-driver-packs
You can see a video from my Dell Nordic Team member: Christian Eilskov on how to install Dell Command Update here
Resources: