Modern EUC Home
|
Posts
Security threads are real and constant to every organization no matter how small or big they are. This weekend I just came across one of the best "easy-to-read" research survey I have seen regarding current state of securing data on the the cloud.
According to a report, available for free, Netwrix's 2021 Cloud Data Security Report, organizations experienced an average of 2.8 cloud security incidents in the past 12 months. According to the report: the most common cloud security incidents by organization size follow: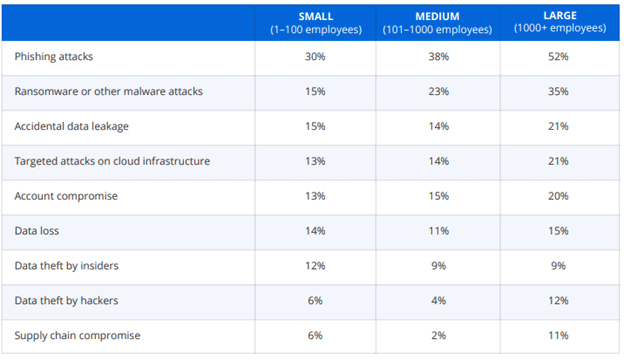 A couple of highlights,
48% of CISOs say that business pressure for rapid digitalization, transformation and growth distracts them from data security
The top 3 incident types were phishing (40%), ransomware (24%) and accidental data leakage (17%).
More than a third (35%) of organizations that suffered data theft by hackers said the incident caused them to lose their competitive edge and/or experience increased customer churn.
62% of organizations are going to remove sensitive data from the cloud or have already done so, in order to improve data security. This is up from 48% in 2019.
On average, organizations allocate 27% of their cybersecurity budget to cloud security.
As far as the question are the top pains for CISO and CIO:

The report goes on to analyze and explain the breach consequences, average detection time, as well as some other excellent data points, compares to the results of a similar survey done in 2019, and provides pointed bottom-line recommendations to follow.
Overall excellent / easy-to-understand report which makes you think a lot about how you are to protect your non-sensitive and sensitive data on the cloud.
Full report at: Netwrix's website: 2021 Cloud Data Security Report