I travel quite a bit, and ever since moving to North Bend about 6 years ago, I have driven the 35 miles from our town down to Seattle Internal Airport (specifically MasterPark Log G) at lease a few hundred miles. I typically drive drive there via I-90 and I-405 , but depending on traffic I have made it there via I-90 , SR-18 and I-405. Sometimes my wife takes me or picks me up which is always nice !
Side note: I remember once a couple of years back when there was a slide across I-90 just after the SR-18. it was around 4:30a and I saw it happen ahead of me. Fortunately I was far enough back that we all noticed a car slide (thought it was an accident) and stopped. We were there for an hour when we did a u-turn and went back SR-18 and made my plane within 15 minutes of boarding! that was a morning I will remember for a while…
Back to Getting to SEA …
Uber and Lyft are scares getting out of North Bend (I know of two Uber drivers in the area – Hi Carol!) but they usually do not stay in the area waiting for rides. Having said this, they are easy to get from the Airport and they are happy to get you to North Bend. I will cost you about $85-$95 dollars plus tip depending on
Standard Taxis or a town-car are also available for about $110 – $125 (plus tip) for the trip Very convenient especially after coming back very late at night
I have done them all for many years, but as of late, I am very pleased with the BellAir Airporter Shuttle Service.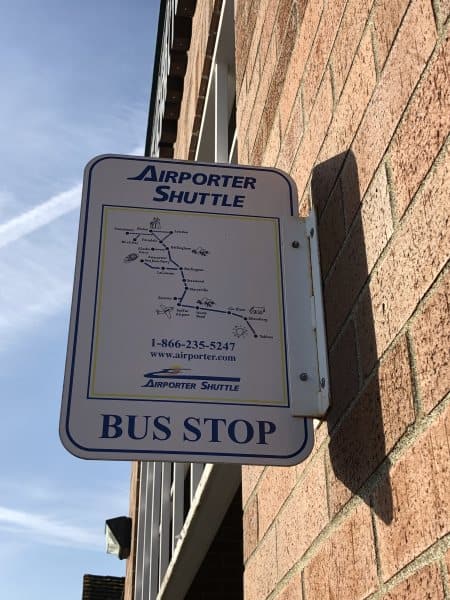 This is a bus service that takes people from the Airport all the way to Yakima and it just happens to have a stop in North Bend – The first (if you are coming from the airport) or last )if you are going to the airport) which is very cool!
It picks you up from the North Bend Outlets (in front of the Chocolate Factory) and it is a direct (non-stop) ride that takes about 40-50 minutes depending on traffic. It has never (even in bad traffic taken more than 50 minutes)
The price as of this writing is $25 each way, and you do not have to drive!
From North Bent to the Airport:

From the Airport to North Bend:

Granted – I have the bus schedule when making my flights arrangements as well as keeping my calls to a minimum during the bus ride. Other important things you need to know:
Require reservations in advanced (call or online)
West-bound bus comes from Yakima, so there might be delays when weather is bad.
No parking allowed at the Premium Outlets
You can contact Airporter Shuttle: 1-866-235-5247

http://www.airporter.com/schedules/schedules-rates-cwa