As of this writing, there has been 9 versions of Windows 10 since its release in 2015 and many of them are no longer supported and therefore not receiving patches and updates. It is extremely important to keep Windows 10 up to date. It is a matter of security, risk management and compliance.
Background & Details
Windows as a service is the approach Microsoft introduced with Windows 10 to deploy, update and service the operating system.
Instead of releasing a new version of Windows every three to five years, as the company did with past iterations of the operating system, Microsoft will continually update Windows 10.
There are two kinds of updates: feature updates and quality updates.
Feature updates occur about twice a year (March and September) and contain new functionalities for the operating system (OS).
Quality updates are cumulative updates that come out at least once a month (patch Tuesday) and contain security patches and other fixes to make the OS more reliable. Because they are cumulative, the latest update carries all of the updates that came before it and trumps any previous updates.
Originally each version of Windows 10 was going to be supported for 18 months, but in September 2018 Microsoft announced a change in which the support for the September release for Window 10 Enterprise users would be extended to 30 months. Windows 10 Pro users and the March releases would remain at 18 months.

Note: There is an additional edition of Windows 10 called Windows 10 Enterprise Long Term Service Channel / Branch (LTSC/LTSB ) which have a longer (5-10 year) support timeline but has a limited set of capabilities and comes at an additional licensing cost.
Keep Up with Windows 10
No matter what edition of Windows 10 you have, Education, Enterprise or Professional:
YOU MUST KEEP Windows 10 up-to-date.
Having said this, this is especially important for those with Windows 10 Pro or deploying March release
Most organizations are used to the "patch Tuesday" cycle when the cumulative Quality Updates are released, but what they may not realize is that those do not work for Windows 10 versions that have reached end-of-service (aka expired versions)
For organizations using Windows 10 Pro this means that they must keep with an update cycle of 18-months.
Feature Updates: Planning
As mentioned, Feature Updates are released twice a year, and for customers with Windows 10 Pro licenses, each version is supported for 18 months. This means that organizations have a limited time to test, pilot and roll-out to their environment.
Once a new Feature update has been released customers typically organizations wait about a month or two (two quality updates) before start a production pilot on their users. During this time, they release it to a limited / controlled set of alpha/ users to begin critical application testing.
After the testing is complete, communication to end-users, deployment coordination and change management processes need to be executed. You need to plan your deployments to minimize risk so no one business unit is at risk of being completely down if something goes wrong.
This planning process is called deployment rings strategy and it looks something like this:
Feature Updates: Deployment Workload
Once you have created your deployment strategy and plan, you need to execute it. Because this is an ongoing "rolling" process organizations need to operationalize (build-into their operations cadence) the deployment process. This often means help desk and deployment resources are working in-sync on an ongoing bases.
Depending on your strategy and number of devices, there will be busy and very times across the timeline of a year.
If you are to deploy 2 versions of Windows 10 per year this is what the workload would look like for any organization: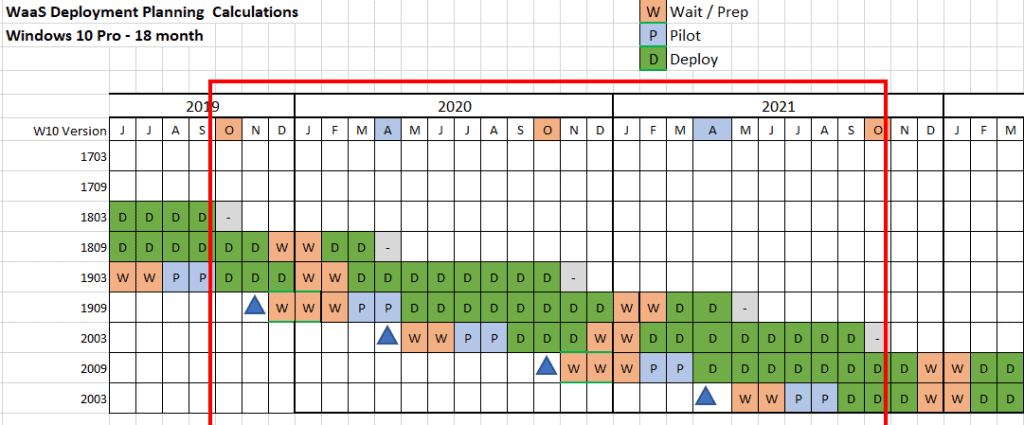 if you are to deploy one version per year, lets say the fall release(xx09), this is what the workload would look like:

Windows 10 Version History


Additional Reading Materials: