I wanted to write something  about a question I get often asked:
What is the pricing and the differences between the different versions of Microsoft 365.  
Microsoft has a variety of productivity and security management offerings that small to medium-sized and large enterprise customers may consider when upgrading their desktop and device infrastructure, each bringing features and functionality depending on the version you purchase.
Microsoft 365 combines Office 365, Windows 10 and Enterprise Mobility + Security (EMS) providing selected offerings of each into three different packages; Business, E3 and E5. These combinations, give organisations access to a range of powerful productivity and security solutions and at a more cost effective price than purchasing these products separately
Microsoft 365 Business combines Office 365 apps and services with mobile application management and Windows 10 Pro to enable remote management and help protect devices against viruses and malware. It includes a simplified management console through which device and data policies may be administered. Many small to medium-sized businesses can be best served with Microsoft 365 Business.
Microsoft 365 Enterprise is a set of licensing plans that offer increased levels of Compliance and security management over Microsoft 365 Business and are designed for enterprise customers and those customers that have over 300 users. In addition, Microsoft 365 Enterprise plans provide additional functionality including business intelligence and analytics tools.  Microsoft 365 Enterprise comes in 2 versions: E3 and E5
Below is a comparison  chart  I put together to quickly visualize the differences between versions: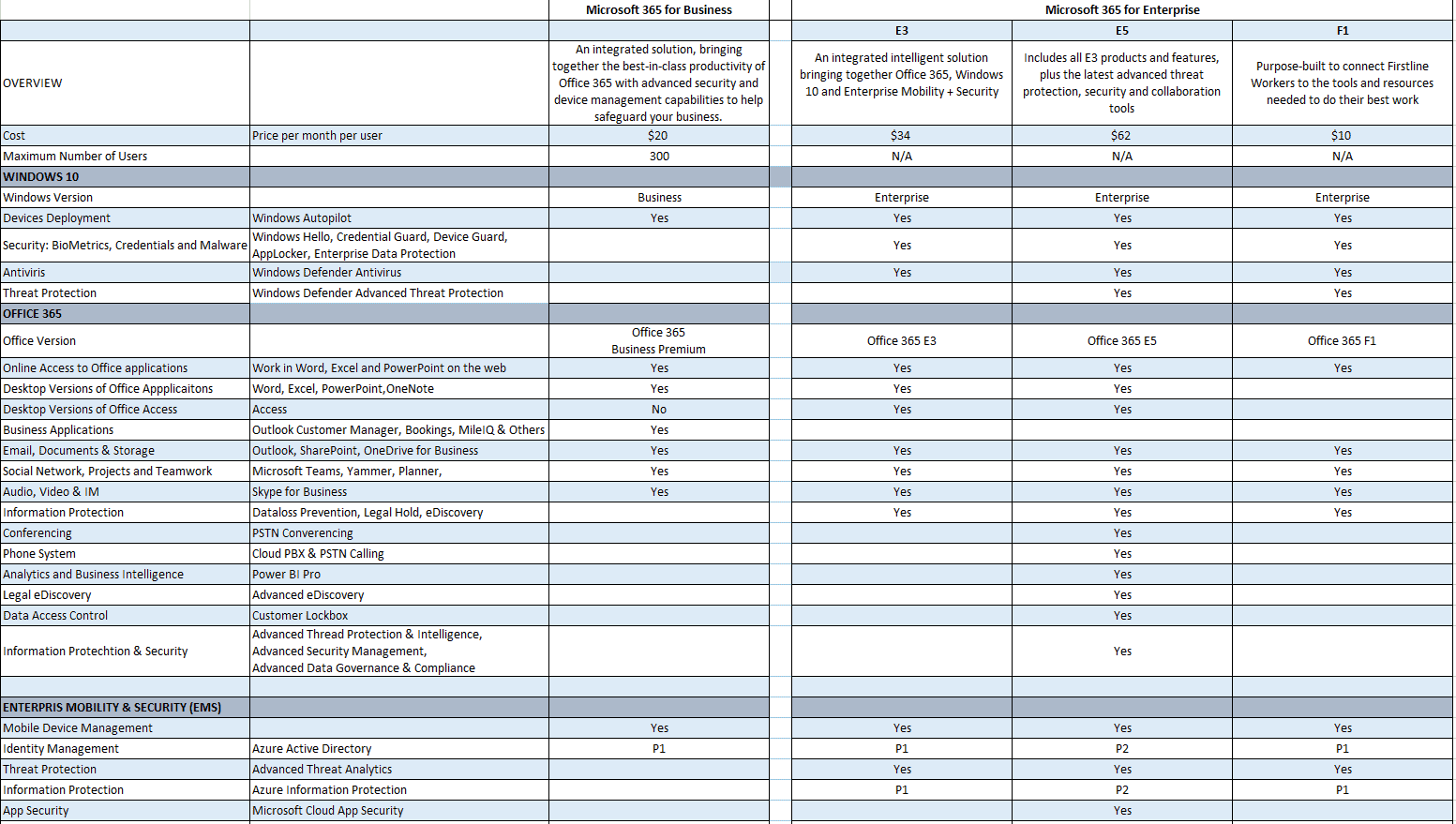 Please keep in mind that Microsoft also offers a couple of versions of specific markets/audiences:
Microsoft 365 for Education — There are two plans available for Microsoft 365 Education: Microsoft 365 A3 and Microsoft 365 A5. Both include Windows 10, Office 365 for Education, elements of EMS, and Minecraft: Education Edition. A5 also includes additional security features (similar to Microsoft 365 Enterprise E5).
Microsoft 365 for Non-profits — Non-profit organizations can get Microsoft 365 Business licenses for a reduced price for $5.00/user/month. You will need to verify your non-profit status. More details are available on the Microsoft site.
You can check the Microsoft site for further information:   https://www.microsoft.com/en-us/microsoft-365/compare-all-microsoft-365-plans