Microsoft 365 Versions Comparison

I wanted to write something about a question I get often asked:
What is the pricing and the differences between the different versions of Microsoft 365.
Microsoft has a variety of productivity and security management offerings that small to medium-sized and large enterprise customers may consider when upgrading their desktop and device infrastructure, each bringing features and functionality depending on the version you purchase.
Microsoft 365 combines Office 365, Windows 10 and Enterprise Mobility + Security (EMS) providing selected offerings of each into three different packages; Business, E3 and E5. These combinations, give organisations access to a range of powerful productivity and security solutions and at a more cost effective price than purchasing these products separately

Microsoft 365 Business combines Office 365 apps and services with mobile application management and Windows 10 Pro to enable remote management and help protect devices against viruses and malware. It includes a simplified management console through which device and data policies may be administered. Many small to medium-sized businesses can be best served with Microsoft 365 Business.
Microsoft 365 Enterprise is a set of licensing plans that offer increased levels of Compliance and security management over Microsoft 365 Business and are designed for enterprise customers and those customers that have over 300 users. In addition, Microsoft 365 Enterprise plans provide additional functionality including business intelligence and analytics tools. Microsoft 365 Enterprise comes in 2 versions: E3 and E5
Below is a comparison chart I put together to quickly visualize the differences between versions: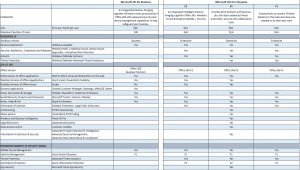 Please keep in mind that Microsoft also offers a couple of versions of specific markets/audiences:
Microsoft 365 for Education — There are two plans available for Microsoft 365 Education: Microsoft 365 A3 and Microsoft 365 A5. Both include Windows 10, Office 365 for Education, elements of EMS, and Minecraft: Education Edition. A5 also includes additional security features (similar to Microsoft 365 Enterprise E5).
Microsoft 365 for Non-profits — Non-profit organizations can get Microsoft 365 Business licenses for a reduced price for $5.00/user/month. You will need to verify your non-profit status. More details are available on the Microsoft site.
Update: 10/15/2018: Versions of Microsoft 365 From Microsoft:
Microsoft 365 E1
The Microsoft 36 E1 plan is ideal for users that don't need desktop versions of Outlook or Office applications but still need eDiscovery and data governance. E1 is the basic version of the three Enterprise level plans. With E1 you'll receive:
Email and Calendars via Microsoft Exchange
Enterprise Social with Yammer
OneDrive for Business with 1TB cloud storage
MS Stream
Communication and team sites with SharePoint
Delve for content discovery
StaffHub and Planner to manage daily staff tasks
Teams (which has adopted components and functions of Skype for Business)
Web versions of Office applications including Word, Excel, PowerPoint, Outlook, OneNote, and Publisher.
The E1 plan doesn't allow for installation of applications on mobile devices, and a constant internet connection is required to use the plan.
Microsoft 365 E3
This plan is ideal for businesses that need more advanced BI, compliance, security, email, and voice capabilities. With the Microsoft 365 E3 plan every user will get the full license and they are allowed to install the applications on up to five desktops, five tablets, and five smartphones. This means you can work anytime, from anywhere. The E3 plan includes the following:
MS Office Suite with the most updated versions of Word, Excel, PowerPoint, OneNote, Outlook, OneDrive for Business, Teams, Access, and Publisher
Cloud Storage, 1TB comes with it, then you have the ability to increase it up to 25TB
The ability to install Office applications across devices (Windows, Mac, Android, tablets, smartphones)
Data Loss Prevention (DLP) to comply with business standards and industry regulations, protecting sensitive information and preventing data leaks
Data management solutions, including archiving, encryption, rights management, advanced emailing, and access control for emails and documents
Microsoft 365 E5
The Microsoft 365 E5 plan is ideal for businesses that use Skype for Business Cloud PBX. With E5 you get a complete phone system along with all functionality available within Office 365. E5 is often considered the powerhouse version of Office because of its robust security features, available analytic tools and voice capabilities. With E5 you get everything included in E3 along with a few additional benefits:
Advanced Security & Information Protection: The E5 license has enhanced features to protect your data from threats like phishing and malware. Enhanced DLP helps protect your content.
Analytics Tools: The E5 is the only plan that offers the analytics tools MyAnalytics and PowerBI Pro.
Advance eDiscovery
Advanced threat protection and threat intelligence
O365 Cloud App Security
Conferencing capabilities
Advanced Data Governance and Customer Lockbox
You can check the Microsoft site for further information: https://www.microsoft.com/en-us/microsoft-365/compare-all-microsoft-365-plans
Referenced materials used can be found below:
Sources:
https://www.microsoft.com/en-us/microsoft-365/compare-all-microsoft-365-plans
https://www.znetlive.com/blog/compare-microsoft-365-plans-microsoft-365-business-vs-microsoft-365-enterprise/
https://www.goptg.com/Microsoft365
https://www.chorus.co/resources/news/microsoft-365-business-vs-microsoft-365-enterprise
.
About Jorge Pereira
Accomplished Information Technology services professional with over 25 years of experience performing technical pre-sales, solution selling, public speaking / presentations, consulting, project delivery and program management. Over the past few years, Jorge has focused on customers solutions in the areas of: Modern Workforce, Workforce transformation, End-User-Computing (EUC) Lifecycle Management, Modern Device Management, Windows OS Management and Cybersecurity. He writes on the
ModernEUC.com
blog and you can find him on Twitter
@jorper98
More info about
Jorge here
Disclaimer
:  I work for
Dell Technology Services
as an Workforce Transformation Solutions Principal.    It is my passion to help guide organizations  through the current technology transition we call the Digital Transformation specifically as it relates to
Workforce Transformation
.  Visit
Dell Technologies
 site for more information.  Opinions are my own and not the views of my employer.