Microsoft Modern Desktop Deployment Guidance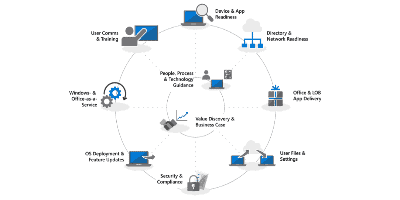 Microsoft published a guidance document (and associated video series) to help customers migrate to the Modern Desktop.
The Modern Desktop refers to Microsoft's bundled product suite called Microsoft 365 which includes:
Windows 10, Office 365 and Enterprise Mobility & Security
(See my Microsoft 365 Explained blog post )
Microsoft's guidance includes 8 steps: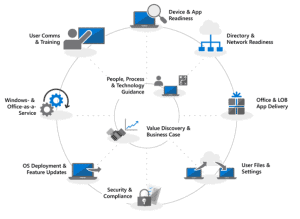 Getting Started: People, Process and Technology Guidance

Step 1: Device and App Readiness

Step 2: Directory and Network Readiness

Step 3: Office and LOB App Delivery

Step 4: User Files and Settings Migration

Step 5: Security and Compliance Considerations

Step 6: OS Deployment and Feature Updates

Step 7: Windows and Office as a Service

Step 8: User Communications and Training
You can read more at Modern Desktop Deployment Center
You can also view the Desktop Deployment Essential 10-Video Series
Please note that from a process point of view, this is not new, however the way it has been published and presented is very good.
In fact, if we organize it a little bit different, it will look like many of the steps used in past system migrations.
Pre-Project:

Value Discovery & Business Case

People, Process & Technology Guidance

Readiness

Hardware Readiness
Application Readiness

Inventory
Prioritize
Testing
Remediation

Directory & Network Readiness
Deployment Planning
Implementation:

Application Delivery

Office / Productivity Apps

User Files Settings
Security & Compliance
OS Deployment & Feature Updates

Modern Provisioning
Traditional Deployment

Keeping Up to date
User Communications & Training
In my opinion, there is one key piece that I think is missing: Production Deployment Phase ( aka: Broad Deployment) – This is what takes most enterprises a long time to execute. Scheduling and execution of production devices is a phase of their own!
Check out my company's Dell EMC Services around Windows 10 migrations