News You Can Use: June 2019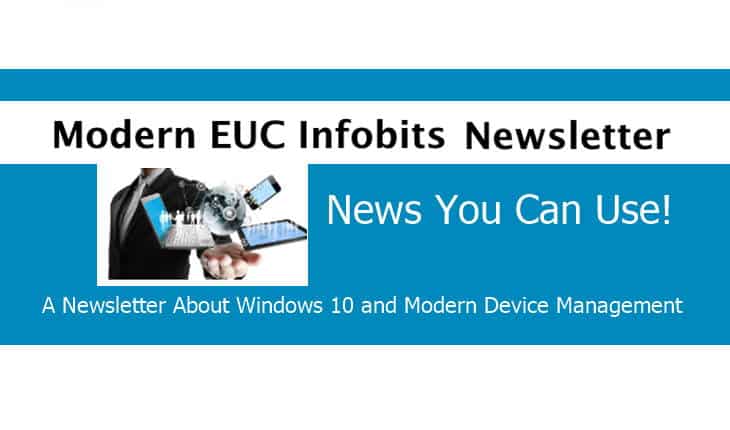 Modern EUC Infobits: June 2019 – News you can Use!

There is so much change in the End User Computing space at the moment that many of us need help and guidance navigate the Workforce Transformation Journey.
The change is not only about Windows 10 or Modern Provisioning but about the entire End User Computing services stack.

—
This month's highlighted items:

Unified Workspace –
New endpoint device management offering from Dell Technologies

Unified Workspace, powered by VMware is the industry's most comprehensive solution for deployment, support, management and security for all endpoint devices.

Learn more here: https://dell.to/2MUoCfm

Windows 10 v1903 released May 21, 2019

The 18-month countdown started about a month ago. The first quality updates for this release was issued as well. Keep in mind that the spring releases have an 18-months life regardless of what edition (Home, Pro or Enterprise) you are deploying! The end of service for 1903 will be December 8, 2019. For more info check the Microsoft Windows lifecycle fact sheet page

No Windows 11 ? — Wait not so quick!

Well it may not be called Windows 11 but there will be most certainly a new Microsoft OS coming in the foreseeable future…. Microsoft announced this new OS as a follow-up to the new PCs announced at Computex. A computer trade show in early June.

"A modern operating system is required for these new, modern PCs and innovative devices that the ecosystem will continue to build and bring to market," Microsoft's Nick Parker writes after running down a list of new PCs from Acer, ASUS, Dell, HP, Lenovo, and MSI.

Link to Microsoft Anouncment here

How is your Windows 10 migration project going?
Will you be fully migrated before January 14, 2019?
How are you keeping up with the Windows 10 updates?
Have you consider Modern Provisioning (Autopilot)

Dell EMC Support & Deployment Services can help!
Contact your account team for more information!

Modern Device Management: More than Just Technology

Today, many companies are moving or seriously considering the move to Modern Device Management (or Modern Management) as their next step of their Digital Transformation Journey. Most considering the move, have already completed their Windows 10 migrations and are looking for efficiencies to their deployment workflows.




Highlighted articles of the month:

More resources can be found at:
About this Newsletter
Some of you may be new to this communication.. Every other month (or so), we find a short list on EUC related topics which would be of interest to you, Please feel free to share below items with your peers! Hope you find it useful. If you were forwarded this email and would like to subscribe, please
click on this link to Subscribe
. Want to stop receiving this emails please
click here to unsubscribe
.
There is a lot of value Dell Technology Services Support and Deployment Group provides customers to help navigate through the Workspace Transformation changes.
CONTACT YOUR DELL ACCOUNT TEAM OR SALES SERVICES EXECUTIVE FOR MORE INFORMATION TODAY!
To receive this newsletter via email, you can SUBSCRIBE HERE
Disclaimer: Opinions are my own and not the views of my employer. Information is made  available for educational, recreational, marketing and informational purposes only and is provided as-is with no explicit or implied warranties. ModernEUC.com is not associated, endorsed or sponsored by Dell Technologies.
You can also check out the archive of past newsletters here

If you have any articles you want me to consider including in future blog posts just ping me on Twitter: @moderneuc with some details!