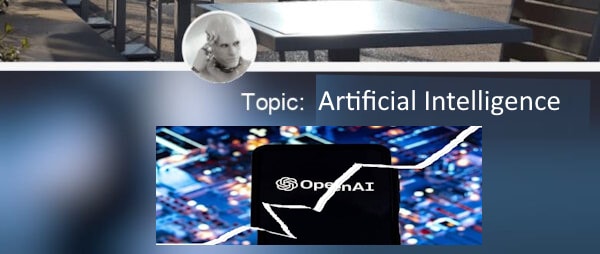 Found it interesting? Want to receive updates?
Wow. Just Wow! — What a weekend! — Even my wife, a non-techy, was tuned-in to every turn this weekend. This is by far the most incredible business tech story EVER! What just happened?
There are many recaps online (see below) but ultimately it boils down to:
There was a completely unexpected seismic event, followed by many trembles, which resulted in dramatic change of the AI / GenAI landscape.
Here is a summary of the key events in the text file:
On Friday November 17, OpenAI's board unexpectedly removed CEO Sam Altman and board chairman Greg Brockman from their positions.
Altman was accused of not being fully transparent with the board. CTO Mira Murati was named interim CEO.
Brockman resigned after learning of the decision. He suggested the ouster was due to a disagreement between Altman and chief scientist Ilya Sutskever.
On Saturday, reports emerged that OpenAI's board was reconsidering the decision due to pressure from investors and employees.
On Sunday, Altman was at OpenAI negotiating with the board, but they ultimately decided he would not return as CEO. Emmett Shear was named the new interim CEO.
On Monday, Microsoft announced Altman and Brockman would lead a new AI lab there, while remaining committed to its partnership with OpenAI.
Over 550 of OpenAI's 700 employees signed a letter threatening to quit to join Altman unless the board resigned.
Sutskever expressed regret over his role in Altman's removal. OpenAI employees signaled their discontent on social media.
Summary of of news from Bing Chat Enterprise:
According to recent news, Sam Altman, the former CEO of OpenAI, was hired by Microsoft after being ousted from his position at OpenAI 1. This move has caused unrest among OpenAI employees, with nearly 600 of them signing a letter calling for the resignation of the company's board and the return of Altman 21. The board of OpenAI reportedly fired Altman after an internal review process found that he had not been "consistently candid in his communications with the board, hindering its ability to exercise its responsibilities" 3. The company's Chief Technology Officer, Mira Murati, has been named interim CEO 3. Elon Musk, who co-founded OpenAI, has expressed concern over the situation 4.

By Monday morning, Altman had accepted a job at Microsoft, tech entrepreneur Emmett Shea was named interim CEO, replacing Mira Murati; and hundreds of OpenAI employees — including Murati — were calling for the board's resignation and threatening to follow Altman to Microsoft.
My thoughts are:
The story is still not finished. Much of the ground needs to be settled. Having said this, the fall from grace of a *critical* new private company (valued at $90 billion dollar) because of an internal conflict between opposite forces — UNREAL — I do not think a movie script could have done this any better.
Even though they already own 49% of OpenAI, Microsoft has definitely strengthened from this shake up. and based on the information I see so far, I would go as far as saying they probably saved not only their investment, but probably saved the day for the industry as a whole.
Resources: