JORGEP030: Stepping It Up – Now on YouTube!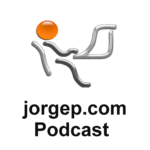 On this. my 30th episode of this podcast, I step out of my comfort zone to introduce my YouTube Channel – Yes I am going into video but I will continue to publish the audio version as well.
YouTube video of this podcast can be found here.
What made me go into YouTube?
Believe it or not, three things acted as the catalysts for me:
the newly introduced YouTube changes (lots of good talk about what is possible still)
the rumors that Amazon is coming out with a YouTube alternative
Its about time! Need to learn these new skills!
My YouTube channel: https://jorgep.com/blog/youtubechannel
Hope you enjoy!
Cheers!
Mentioned in this episode:
Date Recorded: February 8, 2018
Date Published: February 10, 2018
File Size: 20.5MB (Mono)
Length: 3:43
You can subscribe to the podcast via:
My cross-platform podcast client recommendation:

You can subscribe to the podcast via: