Modern EUC Home
|
Posts
In my work I have a lot of conversations on the topic of Workspace Transformation, Modern Provisioning. Modern Device Management Unified Endpoint Management, Modern Application Delivery and Modern Desktop.
There is so much change in this field right now [ with many more to come ] that it is challenging for most enterprises to keep up and map a way forward. It is exciting times, but by no means the topic is new, but in the past couple of years, the pace of change is accelerating:
New technologies / services
Consumerization
User Experience
Everything as a Service
The adoption of Windows 10, Office 365, Microsoft 365 have certainly pushed people and organizations to rethink the way they have been managing devices. Microsoft is not the only one . VMware Workspace One, Citrix Workspace and several others have also been key players to move the field forward.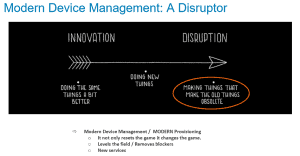 In fact I think we are in a disruptive message, and we are going through it.
Changing 20+ years of existing processes
Disinter-mediating many functions and businesses
New way of thinking
Market Confusion (Lots of new)
Speed of change
I have written a lot of articles on the impact of Windows 10 on the enterprise and related topics, and for a while now, I've been thinking about spinning up a new blog specifically dedicated to this topic.
So over the last couple of weeks I took the time, and secure the domain, twitter account, and moved some of the content to launch: ModernEUC.com
I am very thankful to work for a company, Dell Technologies that has been leading Workforce Transformation. In my particular group, this conversation has been front and center of every customer presentation for a while now. My colleagues are passionate about this topic and love to help support our customers as they consider "the new ways". Having said this you will see my official disclaimer in my articles:
Disclaimer: I work for Dell Technologies Services, Support and Deployment Services Group as an End-User Computing (EUC) Solutions Principal. It is my passion to help guide organizations through the current technology transition we call the Digital Transformation specifically as it relates to Workforce Transformation. Opinions are my own and not the views of my employer. Visit Dell Technologies site for more information.
The goal with this new site, is to provide customers some guidance through the journey of Workspace Transformation and adoption of Modern Provisioning and Modern Device Management. Although the site is just beginning, my hope is to have many people contributing content, and for it to become a good source of information and community for everyone …
Remember it is new so be "gentle" while we pull work on content and details.
I hope you follow @modernEUC and check out the site ModernEUC.com