One of the most common questions I am asked during Small-Medium Business (SMB) customer calls is why should I move from Windows 10 Pro to Enterprise.
The simple (but not complete) answer is: The primary reason is because of the security features included in Enterprise.
Baseline functionality for both versions include:
Cortana
Microsoft Edge
Windows Defender
Windows Firewall
TPM support
Windows Update feature.
Device Encryption if the device hardware supports it.
Windows Hello
The key features not included in Windows 10 Pro Edition are:
AppLocker
BranchCache
Credential Guard
Device Guard
Defender Advanced Thread Protection (ATP)
Windows Virtual Desktop Use Rights
Microsoft Application Virtualization (App-V)
Microsoft User Environment Virtualization (UE-V)
Cloud Activations
Some additional features not available, but are not really related to security are:
DirectAccess Support
Start Screen Control (with GPO)
User Experience Control
Windows to Go
Long Term Servicing Branch (LTSB) version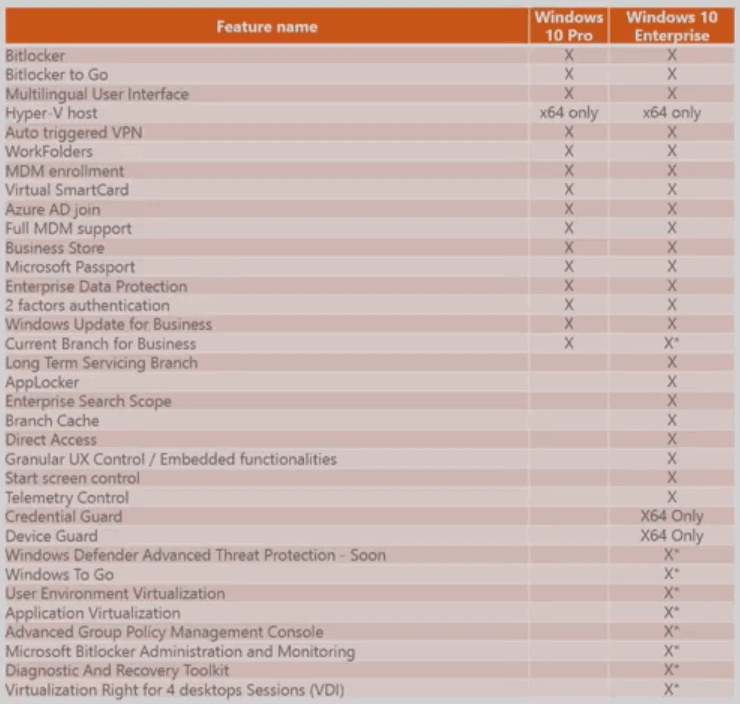 Microsoft has created a page: Compare Windows 10 editions which gets into the many details associated with the differences. Check it out!