Windows 10 v1909 was released November 12, 2019.
This released carries an 18 month lifecycle for Home, Pro, Pro Education, and Pro for Workstations editions and a 30 month support lifecycle for for Enterprise and Education editions. Accordingly, Microsoft has update their Windows lifecycle fact sheet page to show the new version end-of service dates follow: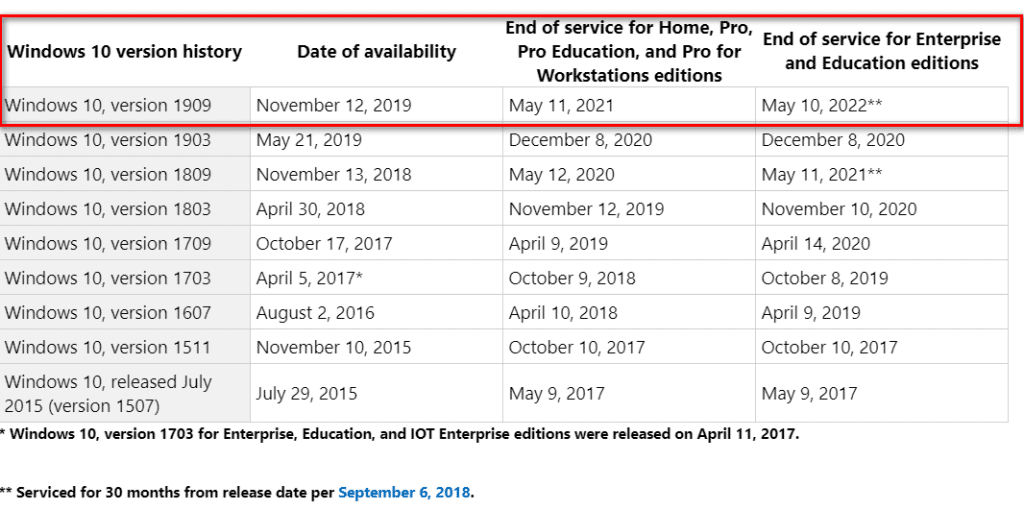 This new version contains just minimal set of new features, hoewever it focuses on stability and optimization of the platform Per blog post by John Wilcox:
Windows 10, versions 1903 and 1909 share a common core operating system with an identical set of system files. As a result, the new features in Windows 10, version 1909 were included in the latest monthly quality update for Windows 10, version 1903 (released October 8, 2019), but are currently in a dormant/disabled state. These new features will remain dormant until they are turned on via an "enablement package," a small, quick-to-install "master switch" that simply activates the Windows 10, version 1909 features.

John Wilcox on Blog post: Windows 10, version 1909 delivery options
Aside from a few feature improvements (see below), this version release is being handled very different than any other past Feature Update Microsoft has delivered in the past in two basic ways:
Not many updates
Installs as a cumulative update instead
More Details
Feature updates are technically new versions of Windows 10, which become available twice a year (roughly every six months) during spring and fall.
While a quality update installation installs the just the updates (patches) into the existing device, the installation process of a Feature Update includes at its basic level, the following steps: –
Move the existing Windows 10 installation into the .old folder
Install new Windows 10 version
Restore copy Data, Profiles and applications
This process takes anywhere between 30 -90 minutes depending on your device speed as well as a number of other user-specific factors (Like number of applications installed)
Windows 10 version 1909 (v1909) Feature Update is much faster (10-15 minutes) as it does not follow the steps above described, but instead follows the steps of a Quality Update.
As noted by John Gable on Microsoft's blog post:
New features include capabilities for:
Quickly creating an event directly from the Calendar flyout on the Taskbar.
Better managing notifications, including a new button at the top of the Action Center and the ability to sort notifications by most recently shown.
Integrating OneDrive content online with traditional indexed results in the File Explorer search box.
The navigation pane on the Start menu now expands when you hover over it with your mouse to better inform where clicking goes.
Using your voice to activate third-party digital assistants from the Lock screen.
If you are looking for additional information, some resources I list below: