Windows 11 Downgrade Option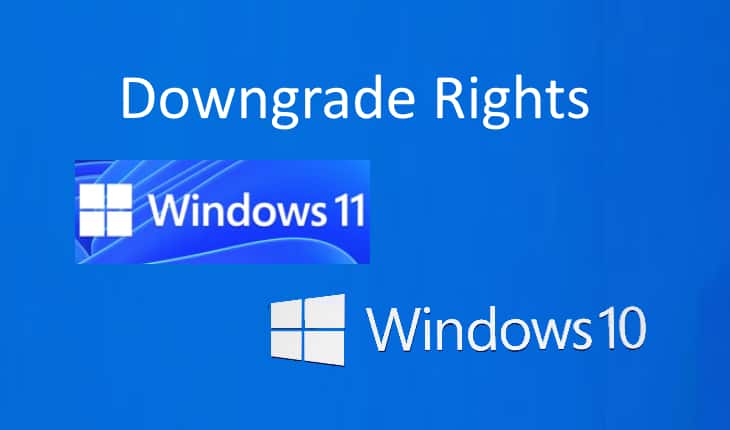 Windows 11 (21H2 / Original Release) has been available since October 5, 2021. Microsoft is working on version 22H2 (Sun Valley 2) and although as of this writing, it has not been released yet, it is expected soon, very soon.
Windows 11 is coming and is here to stay.
Windows 11 21H2 entered the broad deployment phase on January 27, 2022 and is now available for all eligible devices via Windows Update. Although many hardware vendors have already switched to Windows 11 as the default OS for their consumer devices, the availability of Windows 10 as an option for new business-grade devices will come to an end soon. This means businesses that are not ready to move to Windows 11 will need to "downgrade" and install Windows 10 on new devices on their own.
Sidenote: Windows 10 Availability
Microsoft will continue to support Windows 10 until Oct. 14, 2025. Microsoft announced that beginning with Windows 10, version 21H2 (the Windows 10 November 2021 Update), feature updates will be released annually in the second half of the year via the General Availability Channel.
Understanding Downgrade Rights
If your business purchases new devices, they will soon come only with Windows 11 Pro as part of the build, and the ability to downgrade to Windows 10 is governed by Microsoft licensing rules. This is what is called, Downgrade rights. Some OEMs allow downgrade rights and some do not.
Downgrade and down-edition rights are an end-user right that Microsoft offers to customers for certain OEM products that meet the technical requirements for a Windows software downgrade. Downgrade rights are documented in the Microsoft Software License Terms that customers accept upon first running Windows and Windows Server software. Thanks to downgrade rights, end users who have acquired a later version of the software can use an earlier version of the software until they are ready to migrate to a later-version technology.
Downgrade rights are available with Windows 11 Pro OEM-licensed devices. You can downgrade to any
version of Windows Pro/Professional that has not reached its end of support date. Downgrade rights are also
available through Microsoft Volume Licensing (check your agreement for more details)
The downgrade process
Bottom line: In order to install Windows 10 on a device with Windows 11 you need to reimage the device.
You will need to have a Windows 10 ISO, Windows 10 Installation media or similar system to lay down the Windows 10 OS (i.e. configuration manager, MDT, etc). If you are using Windows Autopilot registration, you will need to have a clean version of Windows 10 installed on the device

Resources: