Modern EUC Home
|
Posts
As organizations deploy Windows 10 Pro and Windows 10 Enterprise with Modern Device Management the processes for activating Windows 10 are changing, and new options are available.
Most of us are familiar with the traditional product key registration for Windows devices. For businesses (large and small) the common activation scenarios for activation have included:
OEM Pro – needs internet connection for one-time activation
Multiple Activation Key (MAK) (Pro or Enterprise) – needs internet connection 1 time per system
Key Management Services (KMS) – on premise KMS server doing continual activation
Firmware-embedded – never needs to be on internet connection, it can be in a deferred activation state and never watermark
Definition Summary:
MAK (Multiple Activation Key) is an activation method for Microsoft products, including Windows and Office. MAK activation is used for a one-time activation against Microsoft's hosted activation services. This means that MAK does not require any server or services within your network – the activation request approved by Microsoft servers either online or by phone (for isolated environments that can't reach the internet).
KMS (Key Management Services) is a common activation method for Microsoft products, including Windows and Office. The KMS server, called 'KMS host', is a role installed on a server in your local network. The KMS clients connect to the KMS host for activation for both Windows and Office.
In order to activate clients, both methods, KMS and MAK, require keys that are obtained from the Microsoft VLSC (Volume Licensing Service Center) website. Each MAK has a predefined number of allowed activations, and each activation occurrence will decrease the number of remaining activations for that MAK. KMS, on the other hand, can activate an unlimited number of computers.
Firmware-embedded activation key is the Windows OEM license (Digital Product Key (DPK) also known as Digital License) which comes embedded in the device firmware and reflects the version that the device was purchased with (Home or Pro).

The Modern Way: Activation
As organizations move to implement cloud-based modern device management a new license activation methodology was needed, and Microsoft implemented it with Windows 10. It is called automatic Subscription Activation mode and has become pretty much standard modus-operandi for enterprises using modern provisioning
Quoting Microsoft:
Starting with Windows 10, version 1703 Windows 10 Pro supports the Subscription Activation feature, enabling users to "step-up" from Windows 10 Pro to Windows 10 Enterprise automatically if they are subscribed to Windows 10 Enterprise E3 or E5.

The Subscription Activation feature eliminates the need to manually deploy Windows 10 Enterprise or Education images on each target device, then later standing up on-prem key management services such as KMS or MAK based activation, entering GVLKs (Generic Volume License Keys), and subsequently rebooting client devices.
The evolution of licensing methods has been gradual until recently, when automatic activation became standard on Windows 10 v1703 and it has improved on every subsequent version. For example. if you are running Windows 10, version 1803 or later, Subscription Activation will automatically pull the firmware-embedded Windows 10 activation key and activate the underlying Pro License.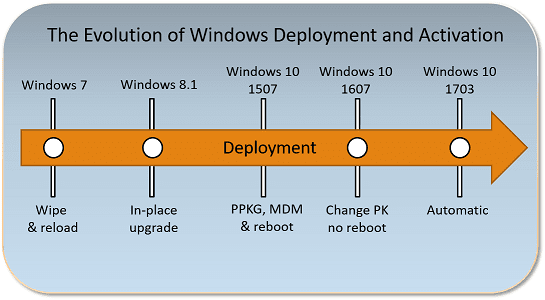 The key concept to remember as you move forward in your journey to Modern PC Lifecycle Management is that licensing is based on a per-user basis rather than a per-device basis
More Information
You can find more info on the following blogs:
Excellent Series of articles by Omer Eldan at SecureInfra.Blog
Windows 10 Edition Upgrade (via Intune) by Noel Fairclough
Microsoft's Windows 10 Subscription Activation