I was working with videos and our family photo library over the weekend (another post coming) and was having some challenges with storage and disk drives
I had a bit of time time tonight, and my hotel had terrible Internet access speed so I decided to take some time and do a quick comparison of speed across several of the media storage I personally use.
First I had to look for a good and easy to read disk speed benchmark product. There are many out there, but the one I chose was CrystalDiskMark Good reviews, easy to use, recently updated and free open source.
Once I had the software, I just need to run the test on the different storage disks I use.
After playing with the tool, I decided to use the following parameters:
Same Computer for all tests (Dell XPS 13 core i7)
50Mg file for the tests
Number of passes per test: 5
Run all tests available (4):

Sequencial Read/Write: 32 queues / 1 thread
Random 4Kb Read/Write: 8 queues / 8 threads
Random 4Kb Read/Write: 32 queues / 1 thread
Random 4Kb Read/Write: 1 queue / 1 thread
I was completely surprise by the delta difference in speed between the different devices.
The SSD drive on the computer benchmarked at 429 MB/s while a 128Gb MicroSD U1 card clocked at 10.5 MB/s — What a difference!
It was a cool test to do…
Details below:
Read Test (in MB/S)
Sequencial
Q:32/T:1
4Kb
Q:8/T:8
4Kb
Q:32/T:1
4Kb
Q:1/T:1
256GB SSD Drive
429.7
128.6
63.3
26.1
256 USB Stick
79.0
6.2
6.1
5.7
128 USB Stick
72.8
2.8
3.2
2.4
1TB Disk Drive
62.5
0.7
0.6
0.5
128GB MicroSD Card
10.5
5.7
5.4
4.9
Write Test (in MB/S)
Sequencial
Q:32/T:1
4Kb
Q:8/T:8
4Kb
Q:32/T:1
4Kb
Q:1/T:1
256GB SSD Drive
173.8
25.1
41.6
18.9
256 USB Stick
21.0
1.4
1.4
1.2
128 USB Stick
62.3
1.1
1.2
1.1
1TB Disk Drive
67.7
1.6
1.6
1.4
128GB MicroSD Card
5.9
0.1
0.1
0.1
Another way of looking at it: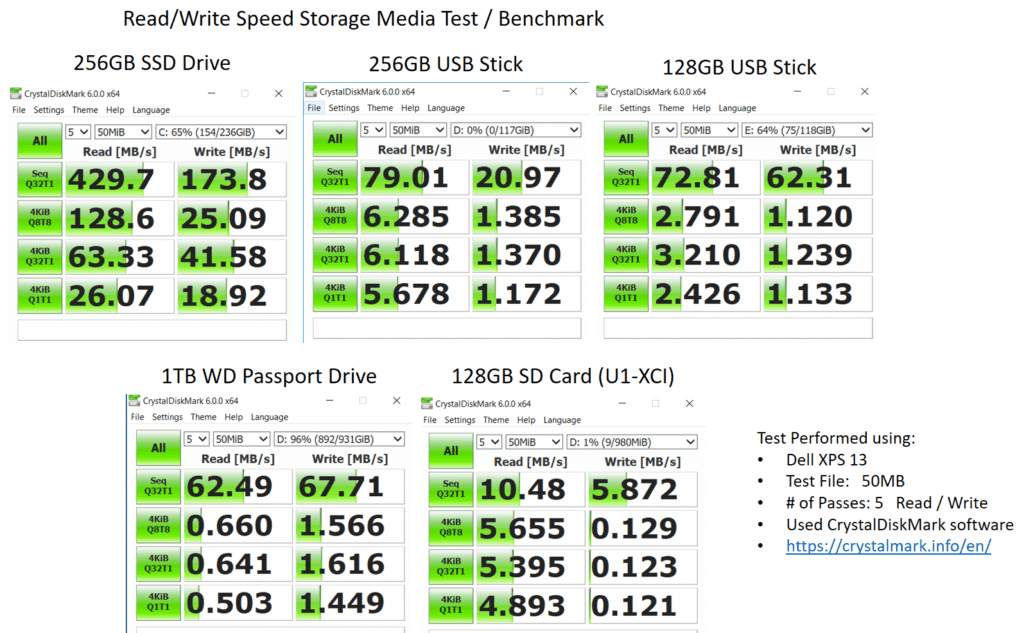 As an FYI the very slow microSD card I tested was a PNY 128Gb U1 XS-I cards