As we detailed in the previous article, "The Solutions Principal Role" within Dell Technology Services involves:
"… customer facing activities acting as a subject matter expert (SME) in their respective field. Their key responsibility is to assist services sales and account teams drive professional services through technical expertise, thought leadership, customer interaction and solution development. "
In fact, the way we have been managing end-user devices for the past 20-25 years has changed drastically and will continue to change rapidly. With the introduction of Windows 10, this has caused many large and small organization having to adapt rapidly to new operational processes and new technologies. And they need help navigating these new waters.
Specifically, the End User Computing Solutions Principal (EUC-SP) focuses on deployment and maintenance services around End User Devices. The specialty areas of an EUC-SP include: Windows 10 Deployment, Factory Configuration Services, Workforce Transformation, Modern Device Management, Modern Desktop, Modern Provisioning, Unified End Point Management, Lifecycle Management, Windows 10 Maintenance, EUC Cyber Security, Configuration Services PC as a Service (PCaaS) as well as BYOD management strategies.
Work Activities Categories:
For any of us the work activities can be summarized in the following major categories.
Office Work / Prep
Research / Q&A- Team Meetings- Training- Expense Reports- Travel Booking / Prep
Internal Calls
Project related- Escalations- Solutioning / RFP response
Customer Touch
(remote or onsite)
Business Development customer visits are typically 1 hour and part of a larger conversation where the Solutions Principal and SSE has been invited to present an elevator- pitch of service offerings to peek customer interest. If there is interest, then a follow-up whiteboard session or scoping call can be scheduled.

Whiteboard Sessions are 2 – 3 hours long with several customer staff gathered around the table to discuss the topic at hand. The goal of the whiteboard two-fold:a) Provide value to the customer by providing key information, thought-leadership and best-practices on current and future state of device management and PC lifecycleb) Gather information and understanding about existing environment to better provide a path forward to improve existing state

Scoping Calls are usually 60 – 90 minutes in duration and they are focused on gathering requirements to create the scope of work for a specific customer need / project to be later presented to the customer the form of a Statement of Work.

SOW Review / Negotiation can range from 30 – 60 minutes depending on the number of questions customer has about the scope presented. If revisions are needed, based on scope / price formal papers will be revised and sent to customer for final approval. An average of 2 of these sessions will be required per opportunity.

Travel Time
– Airtime, Airport transfers, wait time
So what does a typical week look like for an EUC Solutions Principal?
The travelling salesman problem (TSP) asks the following question:
"Given a list of cities and the distances between each pair of cities, what is the shortest possible route that visits each city and returns to the origin city?" –

Source: 1832 – A handbook for travelling salesmen mentions the problem for the first time.
At a high-level, an EUC-SP will have 2 to 5 days of travel across the region they support. Ideally, meetings will be will be focused around a city, but often this is not the case causing multiple travel hops across multiple states and cities.
A typical week, where two cities are involved, may look somewhat like this:
| | | |
| --- | --- | --- |
| | Morning | Afternoon |
| Mon | Office Work / Prep / Internal Calls | Customer Touch + Travel |
| Tue | Customer Touch | Customer Touch + Travel |
| Wed | Customer Touch / Internal Calls | Customer Touch / Internal Calls |
| Thu | Customer Touch / Internal Calls | Customer Touch / Internal Calls + Travel |
| Fri | Customer Touch / Office Work / Internal Calls | Office Work / Prep / Internal Calls |
– Number of customer touches: 4 – 7 (Expected weekly average: 5)
– Flight Time per week: 8 – 12 hours (4 legs per week not including airport wait time, transfers, etc.)
– Estimated Travel time per week: 12 – 20 hours (including flight times, wait time, transfers, etc)
As with any job that involves heavy travel there are many factors that can affect a "typical week" including:
– Travel delays (Airlines, weather, layovers)
– Scheduling / Availability
– Customer cancellations (Sickness, no-shows)
Spend as much quality face time with customers!
The job and the goal is to spend as much face-time with customers (internal and external) as possible.
It should be mentioned that most (if not all) Solutions Principals travel on non-business hours to maximize Customer facing availability.
The next article, "Anatomy of an EUC Customer Whiteboard Session" we will look at what it takes to present a whiteboard, what are the goals, and expected results from the different teams!
A Couple of True Stories: Everyone has travel stories. Just a couple of true schedules for couple of EUC-SPs in the team follow:
Ring of Fire route: Seattle – Los Angeles – Honolulu – Anchorage – Seattle
This particular EUC-SP is known to do this trip at least a couple of times per year.
| | | |
| --- | --- | --- |
| Mon | LAX | 7:40a flight to LAX (arrives at 9:30a)Monday afternoon Customer Whiteboard Session. 6:40p flight to Honolulu (arrives at 10p) |
| Tue | HNL | Morning: multi-customer event Afternoon: Customer Whiteboard Session9:40p flight to Anchorage (arrives at 6am) |
| Wed | ANC | Morning – Rest / Check in to HotelAfternoon: Customer Whiteboard Session |
| Thur | ANC | Morning: Multi-Customer eventAfternoon: Customer SOW Review9:30p – Flight back to Seattle |
| Fri | SEA | Morning – Team Meetings |
Total flight hours for the week: 18 hours
(not including airport transfers, wait times or transfers)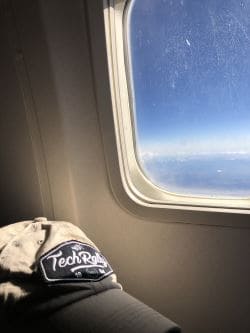 Last minute reroute…
Just landed in San Diego for a last minute / important customer meeting scheduled for the next day. I turn on my phone while taxing and start viewing the ton of emails while flying my non-preferred airline that has no internet access while in flight.
As I review the emails I noticed an update schedule containing the address of the meeting (previously set for TBD) . Most people get in early, so a couple of them mention a place to meet in which I know it is not in San Diego..
What happened? I start to wonder did I missed this myself? I review previous emails (keep in mind I am still in the plane taxing towards the gate) Nope nothing on my email since last Thursday when I checked and book the flight…
Somehow – the meeting got rescheduled on Friday for Atlanta, and everyone but me (the presenter) was informed. GREAT! I am in San Diego. Start to make calls to see if I can get someone else to do it or do it virtually. Account team wants me there.
Get off the plane, connect to the Internet, go to Concur and look at flights from San Diego to Atlanta… Luckily, there is a flight in less than an hour and prices were very reasonable and within policy so I book a one way (figure I will address the return and hotel later)
Arrived late to Atlanta, rested and the Customer Whiteboard happen without any issues! — (Puff!)