For the past 30 years we have struggled (and some of us made a living) with managing, configuring and supporting PCs. For just as many years folks have been talking about ways to make this easier. After all maintaining PCs can be a very expensive endeavor for businesses and a time consuming task for homes and families.
For many years Google has been leading the way of the web-as-the-only platform you need for your computing needs. Google was a web-company, before the web was really cool. They had the vision and foresight to stick with it.
Other companies (Oracle, Citrix, Wyse, IBM to mention a few) have tried to embrace the 'thin-computing model, but unfortunately has not taken roots in the mass-market.
On May 11th Google announced (availability on June 15) of Chromebooks for Businessand businesses should be excited!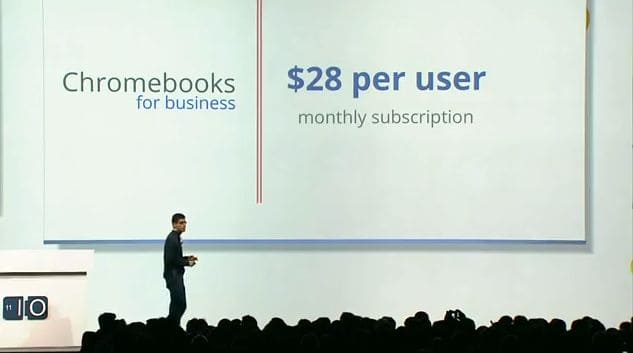 The offering can be summarized as follows:
For a flat-fee of $28 ($20 for educational and government) per user per month, you get: Hardware, Software, Support and hardware refreshes.
Software *and* hardware as a Service!
What makes this possible?
Several converging technologies: Browser advances (Chrome), Virtualization, Cloud Computing, Better Processors; HTML5, and many more..
Bottom line: "You can do everything on the web"
I am excited about this latest chapter of computing. The disruption of the model that has been in place for 30 years is well overdue. The possibilities are endless!