Originally created for Averro.com blog and posted on their blog.
Following our April 17th posting, we have posted webcast — first of a series — explaining how can cloud services can help the Small Business. Each video is small and to the point, and intended for a business audience, and not a technical one.
This one is about 8 minutes long, and goes over Cloud Definition, Types, Deployment Models and Vendors. We hope you the series as so far we have several planned ahead.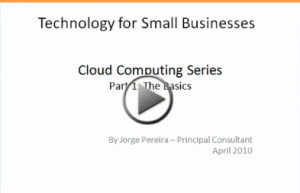 Please let us know what you think!