Very happy to announce that I have launched a new site!
DayScheduler is an intuitive web-based application to help individuals or teams provide visibility of daily availability of a resource (person or thing) and offer users the ability to request booking.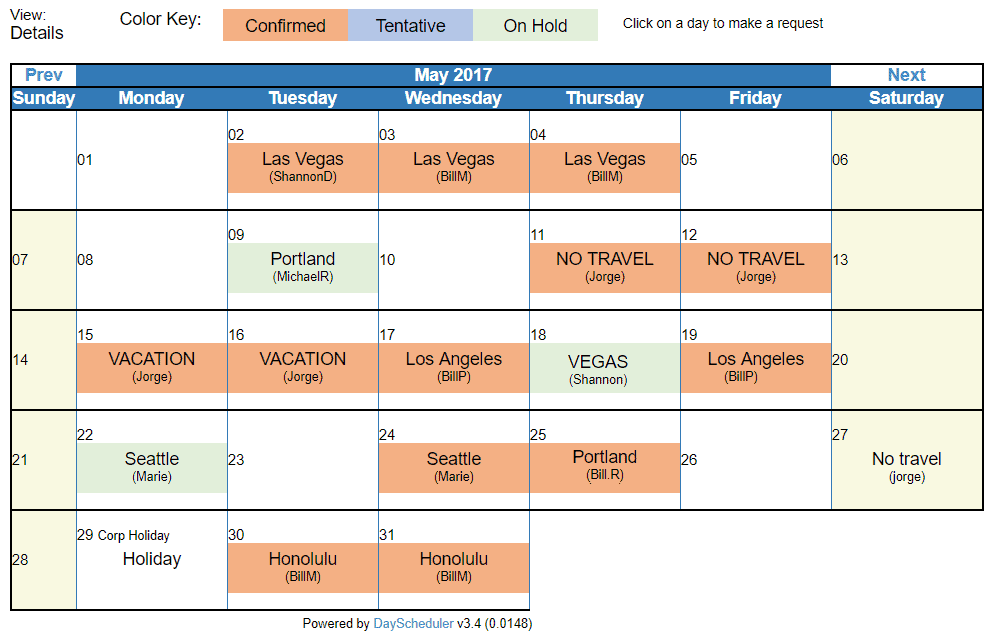 Specifically designed for people like me, always on the go, it can also be used in a variety of use cases. From scheduling people, or other resources (conference rooms, cars, offices).
DayScheduler: A Brief History
After searching a for a while, I could not find a simple, easy to use and inexpensive application that covered my requirements.
I needed to present a calendar to my customers, where they can quickly see my availability, and allowed them to quickly request a day that is convenient to them. The request comes to me via email, and if I accept it, it then adds it to my calendar. I then inform them that I have accepted, and we are confirmed (did not want to do that automatically).
have been using it for about a year, and it has worked really well for me, and it has been a great time-saver for me and my customers. No more back and forth emails to try to find "a day that works". I have my travel and daily bookings calendar in an easy to view day format . Even my family can see where I will be and where have I been.
Originally it was my own application, but as others used it, they asked about it, and I started to develop it a bit further. Got the domain, create some branding about it, then create the sales page ( Dayscheduler.com ). As those initial few and brave users started to use it, I got feedback and improved it. (Thank you!)
Side note: The 360-feedback loop has been greatly satisfying. Someone recommends a feature or improvement (or finds a bug), it gets evaluated, and if feasible queue. If not, then goes into parked items, for "disposition".
As part of the improvement process, I added some administration and back-office management pages, and now we have a web-application that can scale.
We (my father and I) started this Facebook page (and corresponding blog) about a week ago, and started to fill it in with content and a few demo videos, so we can begin to extend the invitation to friends and family.