News You Can Use: February 2019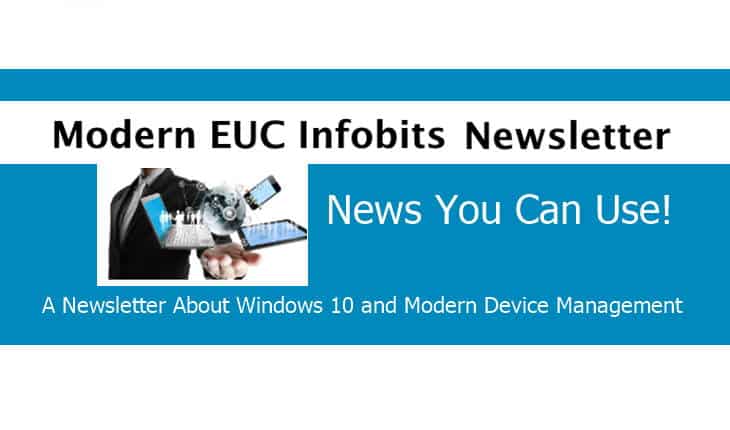 Modern EUC Infobits: February 2019 – News you can Use!

There is so much change in the End User Computing space at the moment that many of us need help and guidance navigate the Workforce Transformation Journey.
The change is not only about Windows 10 or Modern Provisioning but about the entire End User Computing services stack.

—
This month's highlighted items

Windows 10 v1903 (April Release) is now on Fast Ring – Things you should now…

Windows 10 build 18342, targeting April Release (code name: 19H1 ) is now available for Fast Ring Insiders which means it is getting closer to " feature lock" and for those of you using Windows 10 Pro, you will receive the update in about 2-3 months — (those of you using Windows 10 Enterprise have more time) – Some of the items we expect to see which will impact your end-user include: UI refinements (colors, shadows, etc); Search and Cortana will be separated; new "tops apps" section; setting sections will again change; ability to uninstall apps previously locked like: 3D viewe, Paint 3D, Movies & TV, Sticky Notes, and several others; a New Office App that provides quick access to your recent documents and Office web apps; "Fix scaling for legacy apps" is now on by default; Friendly Dates are now the default date format in File Explorer; Windows will now reserve up to 7GB of disk space for updates; and the BIG ONE: Windows Shadow feature! More on all of these here

Highlighted articles of the month:

Windows 7 Extended Support Countdown
https://jorgep.com/blog/Win7RemainingDays/

How is your Windows 10 migration project going?

Will you be fully migrated before January 14, 2019?

How are you keeping up with the Windows 10 updates?

Dell EMC Support & Deployment Services can help!

Contact your account team for more information!

More resources can be found at:
About this Newsletter
Some of you may be new to this communication..  Every other month  (or so),  we  find a short list on EUC related topics which would be of  interest to you,   Please feel free to share below items with your peers!  Hope you find it useful.  
There is a lot of value Dell Technology Services Support and Deployment Group provides customers to help navigate through the Workspace Transformation changes.
  CONTACT YOUR DELL ACCOUNT TEAM OR SALES SERVICES EXECUTIVE FOR MORE INFORMATION TODAY!
To receive this newsletter via email, you can SUBSCRIBE HERE
Disclaimer: Opinions are my own and not the views of my employer. Information is made  available for educational, recreational, marketing and informational purposes only and is provided as-is with no explicit or implied warranties. ModernEUC.com is not associated, endorsed or sponsored by Dell Technologies.
You can also check out the archive of past newsletters here

If you have any articles you want me to consider including in future blog posts just ping me on Twitter: @moderneuc with some details!