Going through my ReaditLater.com pending queue, I found this great Groundwire article from By Gideon Rosenblatt which I had marked several months back
A couple of quotes: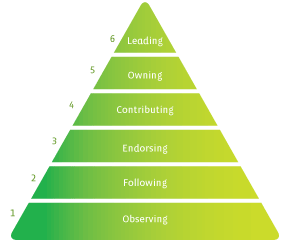 …The most effective social change organizations understand how to wield their portfolio of engagement tactics in Zen-like fashion…

…At Groundwire, we use a framework for mapping these different levels of engagement that we call an "Engagement Pyramid." This framework builds on ideas from the fields of community organizing, relationship marketing and fundraising…

The Engagement Pyramid is an integrated approach to spanning engagement in both the electronic world and the real world. Organizations can use it as a way to think more holistically about the range of engagement strategies and tactics they have at their disposal.
I really enjoyed reading this post as it can be used within so many organizations and situations!