The Latest Case for Workforce Transformation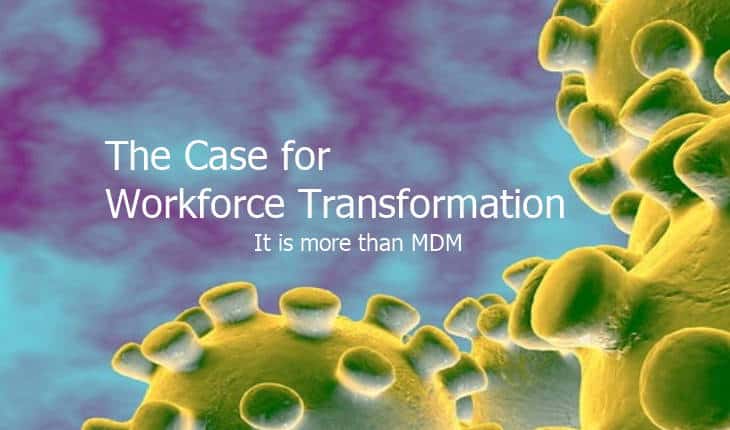 With the current events relating to the worldwide Corona virus outbreak many companies are gravitating towards virtual meetings , revisiting travel guidelines and their ability to provide their staff ways to work from home.
Does it sound familiar? Of course, it does! This is what the workforce transformation, digital workspace and modern device management enables!
The ability to work and securely access applications of data anytime, anywhere on any device.
Now that companies have completed their Windows 7 to Windows 10 migrations, they are / were focusing on how to improve their existing process for managing, deploying and supporting their end-point devices across all platforms anywhere their end-users are. The current corona virus events, which is likely to continue to be with us for months / years to come, are accelerating these conversations.
Work will no longer be a place you go, but rather a thing you do.

by Anna Auerback December 2019
Organizations need to have the right tools and technology to enable their employees to be able to continue to communicate and collaborate with their peers and customers regardless of where they work from .
Enter Modern Management
The ability to better support the end user, no matter where they are, is not only tied to the operating system, but the entire stack associated with their work including:
Identity
Permissions
Productivity Applications
Collaboration Tools
Business Applications
Data
Security
Self Service
Device management
Although the systems have existed for a long time on Android, IOS and MacOS platforms, these capabilities have lagged for the large Windows-based devices ( 2+ billion ) until the release of Windows 10 and Microsoft refocus on bringing their productivity software into one cohesive, cross-device cloud-based platform.
MDM tool is critical, but only a small piece
According to industry press, there are two Modern Device Management / Unified Endpoint Management vendors in the market today: Microsoft and VMware with their respective products: Microsoft Intune and Workspace One.
Although a critical piece of your workforce modernization strategy, modern device management tool is only one piece of the Workforce Transformation Journey. A strong platform including Directory Services, Productivity and Collaboration, and Data Management tools is required.
There are two leading ones that come to mind: Google's G-Suite and Microsoft platform including Office 365 and Microsoft 365 bundled suite.
In medium to large business, the two I encounter the most 1) Microsoft platform and 2) Google Suite platform.
A Platform Moving Forward
Historically, many organizations have used multiple tools to manage different pieces of their end-user computing environment (this include all devices, user authentication and authorization, application delivery, security, ). This has proven expensive and hard to maintain, creating confusion across users, and IT management roles.
Although point solution vendors claim to have better tools for specific use cases, the Microsoft 365 suite is arguably the most comprehensive management, security, productivity, collaboration cross-platform (IOS, MacOS, Android, Windows) product suite available today, and it is hard to beat.
Microsoft Teams, a collaboration platform, comes with the Office 365 suite, which is part of the Microsoft 365, is being widely adopted across the enterprise.
A quick refence to the options available follow: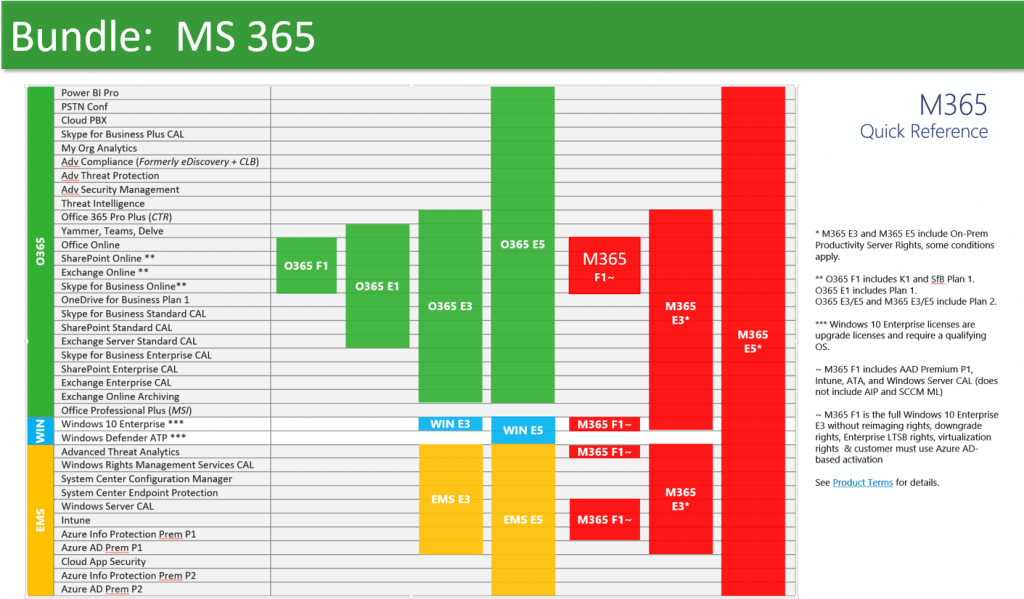 I am having daily conversations with customers about this topic and to best understand their needs, fears and objections. In the last 2 weeks, these conversations have stepped up and many are requesting to accelerate their process towards Modern Management and Workforce Transformation.