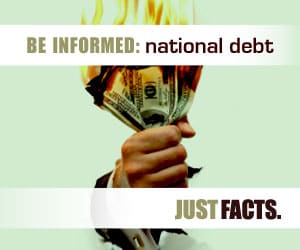 In the last week or so a number of news have come out regarding how the state of the U.S. economy is getting a bit better.  As far as I can see, this is mostly measured by the stock market, housing values and general consumer confidence.       On the surface, this is very good news for all of us, but, there is a behind the scenes story that is not as "rosy" :
A new post in the Justfactsdaily.com  blog  reports that the U.S. Treasury released its annual "Financial Report of the United States Government" which has some very interesting data..
Based on the data of this report, our national government has $67.4 trillion in debts, liabilities, and unfinanced Social Security/Medicare obligations. This represents a significant deterioration over 2012.   Looks like, our official federal debt deficit for fiscal year 2012 was $1.1 trillion, this comprehensive accounting reveals that the federal government's fiscal position deteriorated by $6.5 trillion—or an average of $53,000 per household.
According to the calculations, U.S. federal government's comprehensive fiscal shortfall translates to $214,000 for every person living in the U.S. or an average of $557,000 per household.
Is $67.7 trillion such a small amount that just a few are worried?   How are we going to make this better? Do we need to?