Yes! Windows 11 is out and about! Microsoft released released on Oct 5, 2021 and it has been interesting to read / listen to all of the reviews and comments out there.
Introducing Windows 11 – A new Windows experience bringing you closer to the people and things you love.

Explore Windows 11 OS, Computers, Apps, & More
First let me say that I write this from the lens of my customers point of view. This is not a post about consumers adopting Windows 11 but medium to large businesses.
Bottom Line Summary:
I have written a couple of different blog post about this topic, and was updating my original one as news and activities came up during its release. But now that is out with I thought it would be good to summarize it all on one post.
This is not the same kind of migration effort as it was from from Windows 8 or Windows 7 to Windows 10 — it is much more of a feature update (Windows 10 to Windows 10 update)
Application compatibility vs Windows 10 – non issue
Deployment Update process – non issue (just like another Windows Feature Update
Group Policies / Security – non-issue (minimal impact)
Technical differences / issues – Non issue (minimal Impact) – With very slight changes In Window Autopilot process
The primary changes are to the user Interface (UI) for both end users and for administrators –

More Details
The main question I am getting from businesses is:
What are the key differences I need to know between Windows 10 and Windows 11?
For businesses I boil it down to the following:
One Feature Updates per Year
User Interface changes are considerable and user impacting

Task Bar redesign
Action Center Replacement
Widgets
New Snaps and Multitasking
Apps Updates including: Notepad, Skype and Teams

For administrator :

No more 32-bits version of Windows 11? ( article here ) TBD!
Cortana Removed
Setup experience gets a refreshed /different
Windows Autopilot based deployments:
There are many others, including some relating to speed, security and management,
System requirements were indented to be pretty clear ( you need a modern PC with TPM) , but many exceptions and work arounds have already popped up. I think this will tighten over time, but the the Feature-specific requirementfor Windows 11 is a must reference for organizations to look at for sure.
Key Differences:
Microsoft Summaries the key differences between Windows 10 and Windows 11 in the following chart: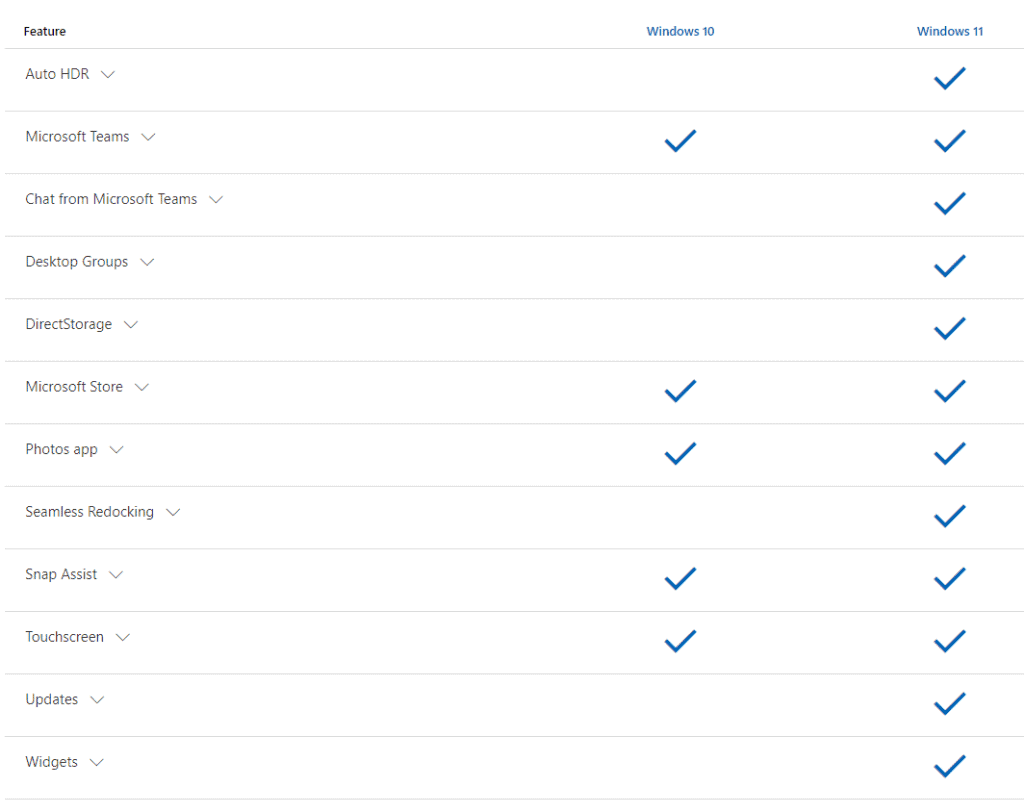 Features Deprecated
Microsoft has provided a list of items that did not make it to Windows 11:
Cortana
will no longer be included in the first boot experience or pinned to the Taskbar.
Desktop wallpaper
cannot be roamed to or from device when signed in with a Microsoft account.
Internet Explorer
Microsoft Edge with IE mode replaces the Internet Explorer 11 desktop application in Windows 11. For more information, see Internet Explorer 11 desktop app retirement FAQ.
Management capabilities
for organizations to deliver customized Start and Taskbar experiences are limited:
– Start supports the ability for organizations to override the Start layout, but does not support locking down the layout from user modification.
– Taskbar pins and ordering can be controlled by organizations.
Math Input Panel
is removed. Math Recognizer will install on demand and includes the math input control and recognizer. Math inking in apps like OneNote are not impacted by this change.
Multi-App Kiosk Mode
is not available. Windows 11 only supports the use of a single app in Kiosk Mode.
News & Interests
has evolved. New functionality has been added which can be found by clicking the Widgets icon on the Taskbar.
Quick Status
from the Lockscreen and associated settings are removed.
S Mode
is only available now for Windows 11 Home edition.
Search Results from the Internet
Windows 11 does not support disabling the return of internet Search results via Registry Key. The related Group Policy setting is not impacted by this change.
Snipping Tool and Snip and Sketch
have been merged into a single experience keeping the familiar Snipping Tool name.
Start
is significantly changed in Windows 11 including the following key deprecations and removals:
– Named groups and folders of apps are no longer supported and the layout is not currently resizable.
– Pinned apps and sites will not migrate when upgrading from Windows 10.
– Live Tiles are no longer available. For glanceable, dynamic content, see the new Widgets feature.
Tablet Mode
is removed and new functionality and capability is included for keyboard attach and detach postures.
Taskbar
is changed including:
– People is no longer present on the Taskbar.
-Some icons may no longer appear in the System Tray (systray) for upgraded devices including previous customizations.
-Alignment to the bottom of the screen is the only location allowed.
-Apps can no longer customize areas of the Taskbar.
Timeline
is removed. Some similar functionality is available in Microsoft Edge.
Touch Keyboard
will no longer dock and undock keyboard layouts on screen sizes 18 inches and larger.
Wallet
is removed.
Windows Deployment Services
is being partially deprecated. Please see this article for detailed information.
Windows Store for Business and Windows Store for Education
no longer include the Private Store tab. Please see this blog post for information on app deployment options.
Source: Windows 11 Specs and System Requirements | Microsoft
Should you update now?
I am sure this will change middle to later next year, but I do not know of any large organization actively updating to Windows 11 right now. Like in most previous major upgrades organization typically skip the first releases and wait a bit for consumers to "kick the tires" before updating. Device driver availability, OS platform stabilization and learning curves usually contribute to this "wait period".
Although there is no significant (none that I have heard of as of this point) application compatibility issues there is the many interface that users need to get used to with this release and organizations will probably want to prepare users for that.
Bottom line:
Windows 10 end of life date is October 14,2025.

https://docs.microsoft.com/en-us/lifecycle/products/windows-10-home-and-pro
I have not seen a major driver for business to update to Windows 11 yet. With 1,461 days left on Windows 10 there is not a lot need to accelerate adoption of Windows 11, with the exception of one item: the fact that major updates are now done annually instead of twice per year.
Special Call out to good a video
One of the best summaries of changes I have seen was done in the TrigrZolt YouTube Channel His video follows:
Additional Resources: