STOP!!!  If you've started the process of going paperless in your home or office you need to stop and ask yourself one question, "since I started going paperless have I backed up any of these new files?"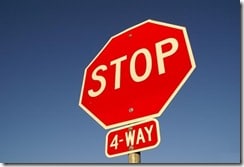 If the answer to that question is anything but yes, you need to start working on a data backup and recovery plan before you scan any more files!
Data and file loss can cost you and your business a lot of down time, risk legal trouble and even cost you thousands in file recovery.  With a little research, you can include a data backup and recovery plan in your process of going paperless.
We've all had that situation where we're working on a report for work, an essay for school or handling some sort of business that we would simply die if we lost, and the second we try to hit that save button, the program crashes – or worst, your computer's hard disk fails — and you lose everything.   Going paperless is no different except that when you start scanning files and getting rid of the paper version, once that paper version is gone there is no coming back and starting over, the file's been destroyed and there's no backup copy.  Whether the it is an important document, a set of bills or a precious memory that you can't live without, losing those files will be a traumatic to your home or business.
When begin the process of going paperless, making sure you have a backup strategy should move top of mind.  Do not embark in this journey, unless you have one! Depending on where you save the information —  your own computer, an external drive, a network storage drive, or the cloud —  you should always make at least a copy and schedule regular updates of those copies.
There are many backup strategies you can follow.  The simple ones include:
Simple Backup Plans and File Storage
For home users, or small businesses, using a storage method like an external hard drive or USB jump drive (they are cheap today and hold a ton of data!) is a great way to keep additional copies of your documents.   We recommend  maintaining two sets of devices:  one close the computer you utilize, the other at a different location.    Making two copies and have them rotate, and one moved to an offsite secure location ( or taken with you leave) .  Another way is to keep copies of files on CD-R or DVD-R discs.  Although they are a bit outdated, the primary advantage is that they are easy to store, and the files are stored in read-only format.   If you're a bit more tech savvy, setting up a NAS or server with RAID enabled, will help you prevent data loss from hard drive failure and will create redundant drives just in case something goes wrong.  With the prices coming down significantly,  new Solid State Drives (SSD) are also an attractive alternative as they do not have any moving/mechanical parts.
Regardless of the media you choose, you can get in the habit of copying your data over to the secondary (or Terciary) storage devices on a regular bases using you operating system's regular copy commands.
If you have a large collection of documents – which you will over time — you will need a software package to do incremental (anything that has changed) between the source and the destination and automate the process     We have created a list of software packages in section "Software Backup Tools page which we keep up to date.
Online Data Recovery, Storage and Cloud Services
One of the latest and greatest advances in storage technology is cloud storage.  The ability to securely store documents "somewhere on the Internet" making it available to you anytime, anywhere.   Services like DropBox, Box.com, GoogleDrive,  Amazon Cloud Drive, Microsoft's SkyDrive, offer (many times start with free accounts ) storage online where you can easily store your personal or business documents online, synchronize across multiple computers, and keeping copies available in their data center for use and recovery whenever you need  them.
There are also many services that allow you to backup your hard drive,  or data server onto their online secure environments,  keeping entire file systems online in case something goes wrong.
Services like Carbonite, Mozy, LiveDrive, SugarSync, ZipCloud, Syncplicity,  iDrive and  many others provide software that sits on your computer. and backs lets you setup automatic file backups that allow you to back up a folder structure or entire file system.  You choose whether you'd like a backup made after a file is created and saved or whether you'd prefer your entire system to be backed up after office hours.  If you lose a file, you simply log on to the provider's website, find the file, and download a backup copy.  It even manages multiple historical revisions of a file if  needed.
The process of going paperless is time consuming, so it's important to have a backup plan in place in case something goes wrong.  Let's face it, if it's electronic, it's eventually going to break down and fail.  Will you be prepared when that day comes?
Data and file loss can cost a lot. If you age moving to a paperless home/office you must have a backup strategy in place.
Going Paperless Series include the following articles: