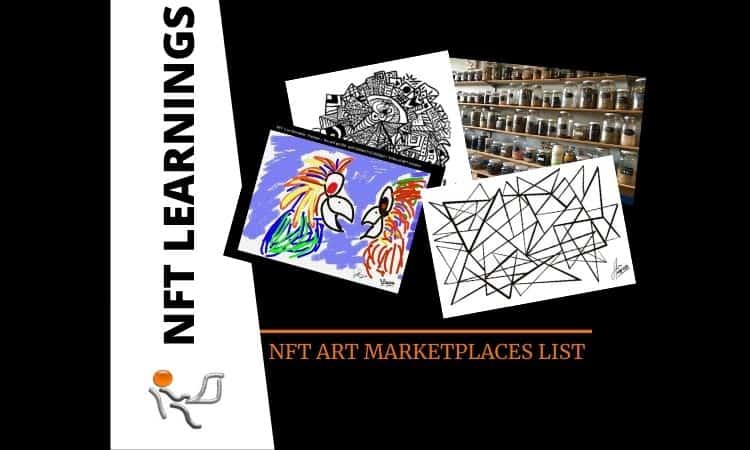 Part of my Learning about NFT Series [ For my personal list of NFT Art Marketplaces see tracking list here ]
First, a few definitions to keep n mind:
A non-fungible token (NFT) is a unique, individual token existing on a blockchain such as Ethereum. Each NFT token contains unique data meaning non-fungible tokens are not interchangeable with each other.
The Ethereum community has adopted the ERC-721 protocol as a standard for Non-Fungible Tokens on Ethereum.
ERC-20 has emerged as the technical standard for smart contracts token implementation and provides a list of rules that all Ethereum-based tokens must follow. ERC-20 are fungible! ERC-20 is similar, in some respects, to bitcoin, Litecoin, and any other cryptocurrency; ERC-20 tokens are blockchain-based assets that have value and can be sent and received. The primary difference is that instead of running on their own blockchain, ERC-20 tokens are issued on the Ethereum network.
The following is a list of NFT marketplaces I've been able to gathered –
Just a list.
No Top 5, No Top 10. No Affiliate links. No recommendations, No editorials.
Just a searchable / sortable list!
This is a dynamic and changing space so expect changes!! I will continue to update as I come across them.
Every week there are many coming to market – it is a charged exciting space!
Form to Submit New or Change to list
Marketplace

Blockchain
Description/Notes
NFT Cost
Date Added
OpenSea.io
ETH
The world's first and largest digital marketplace for crypto collectibles and non-fungible tokens (NFTs). NFTs created on OpenSea aren't actually 'minted' onto the blockchain until they are purchased or sent to another wallet. The process is called 'Lazy Minting' and you can read all about it here.

Creator Guide

Wallets Supported: Metamask, WalletConnect, Portis, Dapper and many others
Low
4/15/2021
Rarible
RARI
Rarible is a software allowing digital artists and creators to issue and sell custom crypto assets that represent ownership in their digital work.
Using RARI ( Rarible Governance Token)

rarible.com FA

Q

| $RARI Toke

n

| Basic Inf

o



Wallets Supported: Torus, Coinbase, Portis, WalletConnect, and others
None
4/15/2021
Apricot
MATIC
HelloApricot or Apricot is a place where you can purchase NFTs from creators with perks. Apricot Moments are minted on the Polygon (formerly called Matic) blockchain. Polygon is a Proof of Stake and climate friendly blockchain (

learn more

)

Note: MATIC is being rebranded to POLYGON
Note2: Integration with OpenSea.io is in the works (May 4, 2021)

Wallets Supported: No Wallet needed. Uses Stripe in multiple currencies.
Uses Metamask with the Matic / Polygon network to transfer NFTs
None
5/1/2021
Mintable
ETH
Mintable is a marketplace for digital items powered by the Ethereum blockchain.

Creator's Basic

s

High
4/15/2021
Mintable
ZIL
Mintable Zilliqa is a marketplace for digital items powered by the Zilliqa (ZIL) blockchain

Creator's Basics | Wallet needed: zilPay
Low
5/1/2021
hic et nunc
TEZ
The present decentralized application allows its users to manage decentralized digital assets, serving as a public smart contract infrastructure on Tezos Blockchain.

Minting Gui

de

|

Wallets Supported: Tezos wallets: Temple Wallet, Spire, Galleon and Kukai
Low
5/1/2021
SuperRare
ETH
SuperRare is a marketplace to collect and trade unique, single-edition digital artworks. Each artwork is authentically created by an artist in the network, and tokenized as a crypto-collectible digital item that you can own and trade.

By Invitation only – Currently (May 4. 2021) taking a

small number of artist

TBD
5/1/2021
Foundation
ETH
Creators are invited to join Foundation by members of the community.

Creator's guid

e

High
4/15/2021
AtomicHub
WAX
AtomicAssets is a standard for Non Fungible Tokens (NFTs) on the eosio blockchain technology. Using Worldwide Asset eXchange

Wallets Supported: WAX Cloud Wallet, Anchor
Low
5/1/2021
Myth Market
WAX
A series of convenient online marketplaces supporting various brands from Topps to Blockchain Heroes and William Shatner on the WAX Blockchain.
Low
5/1/2021
Nifty Gateway
Nifty
A Nifty is a digital item you can truly own. Nifty Gateway lets you buy, sell, trade, & display your Nifties.

Creator Guide
Low
4/15/2021
BakerySwap
BSC
BakerySwap is one of the first projects to leverage BSC (Binance Smart Chain) .

Wallets Supported: MetaMask or WalletConnect

Guide to BakerySw

ap

Low
5/1/2021
NFTHIVE
WAX
NFTHive Search Engine for AtomicAssets & SimpleAssets across all WAX Markets
Low
5/1/2021
Collectables.io
???
No longer available.
(All user NFTs have been automatically refunded to user wallets.)
TBD
5/1/2021
WaxStash
WAX
The Waxstash Marketplace's is a marketplace built on WAX (Worldwide Asset eXchange).
Lots of sports related trading cards and collectibles but alsodigital content by popular companies & artists.

Wallets Supported: Cloud Wallet, Anchor Wallet, StarteOS
Low
5/1/2021
KnownOrigin
ETH
Currently ( May 4, 2021 ) closed to submissions

Creator's Guide

Wallets Supported: WalletConnect, Portis, Fortmatic
Medium
5/1/2021
MakersPlace
ETH
Accepting applications
MakersPlace is a marketplace to discover and collect truly unique digital creations by the world's most creative minds. We empower digital creators with the tools to protect and sell their digital creations to their fans and collectors. Artists, photographers, writers, and more use MakersPlace to create and sell their work online through the use of blockchain technology.

MakersPlace is currently free to use for all members. However, all transaction fees associated with blockchain interaction are paid by the end user.
On successful sales, MakersPlace takes a 15% commission on all purchases in Ether and additionally a credit card transaction fee for purchases done through credit card.

Wallets Supported: MetaMask, Coinbase Wallet, Trust Wallet
Medium
5/1/2021
Cargo
Multi
Cargo is a multi-chain platform to create, share, sell and buy NFTs.
Cargo is a secure platform you can use to create, manage, display and sell rare crypto art, tradable blockchain gaming items, secure tickets, access tokens and other digital items to support your business or project.

Supports multiple chains: ETH, xDAi, MATIC

Wallets Supported: Formatic, MetaMask
High
5/1/2021
Mintbase
ETH
Mintbase is a global platform and marketplace – like Amazon.
2% transaction fee – no Gas Fees

Note: mintbase stores all NFT files and metadata on the Arweave hybrid blockchain they call the blockweave. https://docs.mintbase.io/data-storage

Wallets Supported: Formatic, MetaMask
Medium
5/1/2021
Portion.io
ETH
Portion is the premier online marketplace connecting artists and collectors through Blockchain technology to easily sell, invest and own art and collectibles with complete transparency.

app.portion.

io

| Creator's Guide
TBD
5/1/2021
zora.co
ETH
Zora is a universal media registry protocol. It's a way for creators to publish creative media, earn money on their work, and have others build and share what they create.

Zora 101: How to Mi

nt

|

Wallets Supported: Metamask or Rainbow wallets.
TBD
5/5/2021
Kalamint
TEZ
Create, sell and collect NFTs on Tezos with Kalamint - Kalamint is the first community-owned public NFT marketplace on Tezos.

Wallets Supported: Temple Wallet
Low
5/10/2021
Twinci
BNC
Twinci TWIN is a Twinci token on the NFTs market. You can use TWIN tokens to buy and sell NFTs products that you like, and you will receive a lot of special offers when using TWIN tokens to pay.

Wallets Supported: Metamask, Math Wallet, and others
Low
5/7/2021
NFTY Bazaar
Multi
NFTY BAZAAR is a marketplace that enables users to tokenize a variety of items and place them into a marketplace to monetize intellectual property. The marketplace seeks to create a seamless user interface that is built on a unique blockchain methodology providing trust, security, and reliability

Not open yet
TBD
5/14/2021
Lazy
N/A
An online gallery TO SHOW / SELL NFTs
TBD
5/30/2021
AirNFTs
BNC
NFT Marketplace on Binance Smart Chain

Art NFTs | Creators
Low
5/30/2021
nft.tech
???
Opened in June 2021 - NFT Tech is shaping the next-generation of infrastructure for the NFT marketplace. A comprehensive platform where users can easily create and trade NFT assets.
TBD
5/30/2021
mochi.market
BNC
UPCOMING: The multi-chain decentralized exchange ecosystem for non-fungible tokens $MOMA Token
TBD
5/30/2021
HoDooi.com
MULTI

UPCOMING: The Multi-Chain Marketplace to Create, Buy, Sell & Re-Sell NFTs Uses the HOD Token
TBD
5/30/2021
NFT-ART.finance
BSC
IN BETA: Unique NFT platform empowers creators with accessible & safe tools. Turn your music, art and ideas into NFTs!
Properties include: enter.art , enter.audio, enter.X


White Paper: https://drive.google.com/file/d/1EP3iRvkpcm-G1NWcY7wJaOt-mBOjh1lT
TBD
5/29/2021
enter.art
Part of NFT-ART.finance, An Independent Digital Art Marketplace for artists & Creators. The beta will launch late may with a curated selection of artists.
TBD
5/29/2021
daVinci
ONE
daVinci is a NFT marketplace platform on Harmony, where the user can mint/create NFTs for any artist (art, music, etc) and sell/purchase NFTs with incredible low fees and 2 seconds finality. HARMONY TOKEN

Basic Guide |
Low
5/31/2021
WEYU
MULTI
UPCOMING: Launching in June 2021 - WEYU is the world's first Multi-Chain Platform designed specifically for the NFT resale market.
Low
5/31/2021
epor.io
XDAI
Eporio is a marketplace for NFT tokens with the aim to lower the costs for both creators and collectors It uses to xdai chain is a blockchain similar to Ethereum with the difference that it uses a proof of stake consensus method instead of a proof of work.

Wallets used: AlphaWallett, Metamask, Nifty Wallet
More on the xDai chai

n

|
Low
6/1/2021
sorare.com
ETH
Sorare is a global fantasy football game where you can play with officially licensed digital cards and earn prizes every week. We are backed by a world-class team of investors, supported by gaming giant Ubisoft and already trusted by 100+ football clubs, with many more coming every month.
Supported Wallets: Portis or Coinbase Wallet for a mobile option or Metamask for a browser wallet.
High
6/2/2021
Codex ( ETH )
ETH
This is not a marketplace for digital Art only but an online authorative record of anything (physical or digital) using the Ethereum blockchain. It creates Codex Records on the Ethereum Blockchain without the need for any direct blockchain interaction.

Codex Protoc

ol

| Codex View

er

| How it wor

ks

|


NA
5/6/2021
Other Lists: