As this year begins, I once again visit the topic of our large family photo library organization.
For background, I have written about this a few times over the years. My firs article was in 2010, Managing My Picture Collection Online, where I compared several tools and online resources available back then… I followed with an article in 2015, Photo Library On the Cloud and then again in 2019, Managing My Photo Collection Not much has changed since I explained my process back then.
Short summary of that last blog follows:
I have all of my digital photos ( 522,174 photos and videos in a bit less than 2TB ) stored in my Network Attached Storage (NAS) device organized in folders by year taken and special events within that year. As with most of us, in the past few years we have taken 90% of our photos from our phones, so I transferred those – actually OneDrive does it for me – to the shared storage for safe keeping. Two main folders per year include: Jorge Cell Phone Photos and Flavia Cell Phone Photos which now contain the most photos while they get sorted to the specific events.
I found a fantastic / inexpensive program called Phototecha by Lunarship that lets me manage my entire collection, update the keywords and tags on the files, create virtual albums and much more. Definitely worth checking it out.
// End of Summary.
It never hurts to touch up on my progress towards my goal:
My legacy to the family will be a well-organized and complete digital photo collection.
Fast forward to today January 3 20201.
I have to admit I am still astonished at the fact that there is no good reasonably priced and friendly multi-user cloud-based system to manage a large photo collections. I have tried a lot of them and none has really hit the mark of what is needed. This is a big problem as we "the common people" continue to collect thousands of digital photos which remain unsorted/un-cataloged on disk drives!
So how am I doing with my collection? —
This year I was going to take it on during quarantine time, but got hooked into my creative side, and started doodling, and posting them and creating merch online on doodlingjorge.com. Every year or two, during holidays, I get to update and work on my photo library and this year was no different.
During the year we continue to load the photos we took and to my surprise, although the number was much smaller, even in 2020, it was still in the thousands from mostly both phones.
I still use Phototecha to catalog, search and edit keywords/tags and create virtual albums (they are called smart albums). I particularly like its facial recognition and keyword/tagging batch capabilities, but have not finished keywording them all yet.
From time to time I have also used the open source photo management software, DigiKam, to edit keywords/tags and other metatag information / templates for special projects. although the user interface is not as intuitive, I find its speed, batch editing capability and metatag management, are the best for a free / open -source / multiplatform app out there.
My wife still frustrated every time that she looks / searches for a photo. I think she has given up on sorting files into folders, so it is up to me to do it now days.
My next goal:
My wife and daughter still think "folders" for cataloging / searching, I need to help them switch to keywords and tags for finding things.
Also I need to find Duplicates photos across my entire library – have this excellent program called: Duplicate Photo Finder which allows me to search for duplicate photos across all of my folders, select the ones I want to keep and delete (or copy) the rest.
Even though they are great to look at every 10 years or so, physical albums are a drag to store and maintain, so I think another task we ( perhaps only me ) have is to scan all and create a catalog of the physical photo albums (remember creative memories?) stored in a couple of dozen boxes in the closet. They are not in good shape and they some are over 40 years old!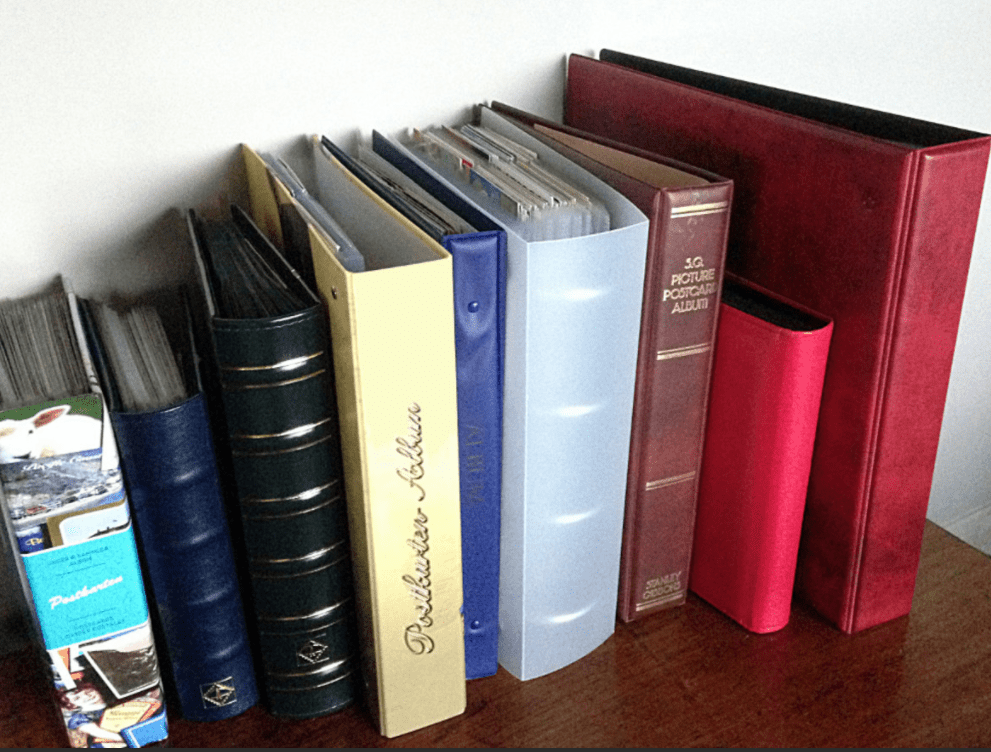 ( the above picture is not of my albums, just one I found on the Internet. Instead we have lots of moving boxes with albums of many sizes… )
Look forward to 2021 and beyond!
If you have any suggestions, questions or thoughts on this topic – please engage with me via Twitter: @jorper98 would love to chat!