Unified Endpoint Management Field 2018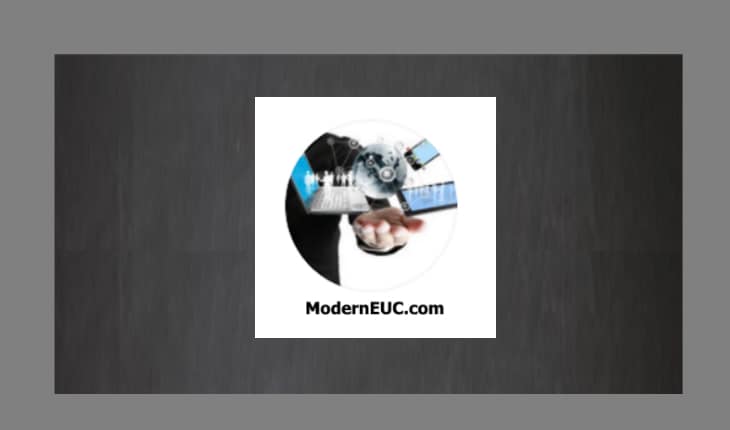 This post  was inspired by a tweet  from VMware's COO Sanjay Poonen (part of Dell Technologies)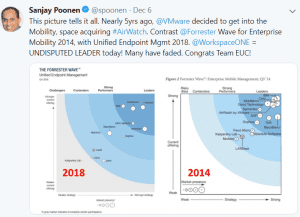 It is simply amazing how much the End User Computing  space has changed in the last four year…    For many of us in the industry the  way we were managing PC devices needed a radical change.    We simply could not continue to perpetuate the existing model.
For many of you managing non-Windows devices – MacOS, IOS, ChromeOS and Android – you knew there was a different / easier way devices could be managed.    Thankfully  with the introduction Windows 10, Microsoft provided the capabilities needed to modernize device provisioning and management within their platform.
It has been hard for many early adopters including enterprises, small and medium businesses, vendors, and system integrators but it has also been exciting, refreshing and a much welcome change of pace to the industry.
Unified Endpoint Management
Although the term has been around for several years we can finally say:
Unified Endpoint Management as a single platform, user-centric system to provision, de-provision  and manage all of your devices through a product of your choice with minimal involvement of IT resources.
As I wrote in my initial Welcome to the Modern EUC blog post,  Disruption  ( "The thing that makes old things obsolete" ) has finally arrived to the End User Computing  space.
The Analysts:
Both Forrester and Gartner have published reports that clearly indicate   two companies are leading this space:   Microsoft and VMware.
| Forrester Wave | Gardner's Magic Quadrant |
| --- | --- |
| Q4 2018  shows Microsoft, VMware, Mobile Iron and IBM | June 2018 report shows: VMware, Microsoft, IBM, MobileIron and BlackBerry. |
A couple of observations here:
When I visit customers, I rarely come across Blackberry when the Modern Device Management conversation.   MobileIron does come up from time to time.
I suspect IBM will no longer be listed as they announced that they are selling  most of their products in this space to HLC India.
I am not 100% sure why Citrix is on the top-right quadrant  for Gartner.. They have an widely used impressive product.
Unified Endpoint Management Parts
In order to enable Modern Device Management / Unified Endpoint Management the following  9 key components are needed:
Anytime / anywhere device management (cloud-based management)
Directory Integration
Multiple platform support for device management & enrollment
Self-service Password Resets / Multi-factory Authentication
Policy Management
Application Provisioning
Single Sign On
Self-provisioning  Catalog
Analytics & Reporting
Some will argue that Security, OS Upgrades and others could also fall into the key UEM requirements but I would say it is evolving…   There are many parts, pieces and integration points that are potentially possible between  many existing 3rd party products  that organizations are not quite ready to  part with to go to a single vendor platform.
UEM Leading Products
We visit many types and size of business and I would say that today,  the leading vendors in this space are:
Enterprise Mobility & Security  (Include Microsoft  Intune)
Please note that Microsoft 365 is more than Unified Endpoint Management.  It is license bundle that includes: Windows 10, Office 365 and Enterprise Mobility & Security Suite.      You can purchase Intune and Azure AD  individually but the bundle price is much more attractive.   (for more info, please see post: Microsoft 365 Explained In Three Pictures
Relentless Continuous Improvement
The amount of change and innovation from both Microsoft and VMware on a monthly bases is simply impressive.      (Look at Microsoft Intune's monthly change log alone )   –  Change is based on the following core principal:
Improve end-user experience while reducing complexity
Any vendor that lacks relentless continuous improvement simply can not compete, and therefore will ultimately be
We are not there yet
From what I can see, the road ahead is filled with innovation and change.  Organizations that have adopted Modern EUC  principals including Modern Device Management  are breaking away from the "chains" of the heavy burden  of traditional PC management are benefiting immensely.
Not only they can manage more / better and more securely with a lot less, but they are freeing up key resource to help the business achieve more. Be more strategic.
The leaders in Unified Endpoint Management have strong roadmaps ahead and strong end-user feedback loops which is where many of the ideas for the future are coming from.
I would call out that the next evolution, actually revolution, will be in the application  delivery and management space.     Now that devices can be provisioned and managed the focus for us all will be enabling local application virtualization and conteranization technology so that the legacy application dependencies can be self-contained to a package that can be executed without dependency on the OS version.    (more on this on a future blog post)
It is an exciting time in the End User Computing field.
#modernworkspace #moderndesktop #devicemanagement #euc #workspacetransformation #modernprovisioning #moderneuc #uem