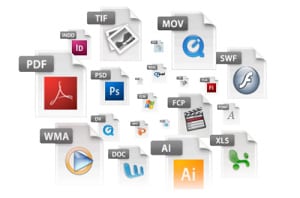 When planning to convert your office from traditional file storage to a paperless office it is important to consider what file format – digital format – will provide the most benefits before you implement anything. When your office is  paperless, it's important to find a file format that is secure, widely used, publicly available and most of all fully searchable for easy file retrieval.
One of The Most Commonly Used Formats
Portable Document Format (PDF) is  an open standard file format for document exchange,  originally created by Adobe Systems in 1993.  Each PDF file encapsulates a complete description of a fixed-layout flat document, including the text, fonts, graphics, and other information needed to display it, which, for the most part,  is independent of the hardware, software and operating system being displayed in.
PDF files have become one of the most commonly used file formats world wide because they are considered freeware and can be retrieved, viewed and printed using extremely flexible, secure (if needed), easily searchable,  and universal.  Since PDF files can be viewed for free by anyone, it has made the PDF file format a very widely used format for everything from scanned documents to emailed memos.  Most modern software and document management  systems, support the creation and retrieval of PDF files natively, and there are dozens of readers available in most platforms.
Cross Platform Compatible
PDF files are able to be used on most platform whether your reader is a smart phone, PC or tablet device.  The document will generally display the document as originally created,  regardless of your systems hardware, operating system (Windows, Mac, Unix ) or application software used to create the document.  Since PDF files can be read regardless of system specs, this helps to eliminate the issues you encounter when sharing files created using different software versions, regardless of your platform, you can read the PDF file you received.
Multiple Search and Creation Programs
As oppose to graphic formats (TIFF, JPEG, GIF, PNG and such)   One of the greatest benefits to the PDF file format is that it is completely searchable. You  search through easily through an individual PDF file,  or do a a full text  entering  a keyword or phrase, and bring up the results.      Many operating systems support this feature natively.  There are multiple programs available to organize and recover PDF files including Google Desktop Search, JabRef, Referencer, Copernic Desktop, Debenu PDF,   Mendeley Desktop and many others.
Secure Format (if needed)
Once created, PDF files are "read only" files that cannot be easily altered without leaving a digital trail.    Depending on the software you use to do the PDF creation, there are many options you can select for securing the file even further.   You can make the file password protected, enable encryption, disable the ability to print, copy content, and many more.
For an imaged electronic document to be admitted in a court, it has to be in a file format that cannot be altered without leaving traces that it has been altered. Using file types such as TIFF, JPG or GIF files when scanning documents becomes a security issue as the file formats can be altered without leaving any record that they've been altered. Because of this, PDF files are one of the only ways for electronically transmitted documents to hold up in the legal process.
PDF File Creation
In order to create PDF documents you will need software capable of saving in the file format. Depending on your current software you may have to purchase or download a program capable of creating and saving in PDF format.   Microsoft Word latest versions are capable of saving documents in PDF format, but there are other options available that provide significantly more options and settings including: Adobe Acrobat Pro, Print2PD, WinPDF and many more that can be located and downloaded online. While there are many free options available, you may want to consider purchasing a product as free versions may not offer all of the options you will need for your files including a number of security and form creation features.
Your digital format of choices should be PDF files. 
Going Paperless Series include the following articles: