I have been doodling on and off since I was a little kid. I distinctly remember a memory with my father where I drew lines, circles or anything I wanted on piece of paper and he will make something out of it… I always thought that was pretty cool… If you have seen my notebooks, they are full of small doodles. Always doodling while listening to telecons or in training sessions… I talked about this habit of mine in my Podcast episode 15: Doodles and Coding back in September 2017.
At the end of last year, I made a new year's resolution to not only start doodling more often, but to not be shy and publish them on social media as I go along. This was going to be one of my creative outlet for 2020 I thought to my self back then.
I am trying many different styles. I started with simple ones and they became more and more elaborate. Then I go back to simple ones… 80% of them are made with pen and paper, but I also started using my iPad and the Apple Pencil.
A few things I have realized during this time are:
I like drawing in back and white.
Although I enjoy drawing on my iPad, it is a different experience than pen and paper which I enjoy more at this time.
It is such a relaxing feeling – stress disappears and the focus is just there, in front of me and it just flows.
If it gets too difficult then I step away from it, and come back to it when it is time.
It was a great way to pass the time while traveling, during hotel stays, but now during quarantine-time it has been really fantastic!
As of today, May 17, 2020 I have done over 150 doodles of all kinds.. I started to do them as cards using card-stock 8″ x 5.5″ paper folded in half as cards and my wife gave me 6.5″ x 5.5″cards a couple of months ago.
A couple of weeks ago, someone mention to me that my drawings reminded them of a friend who teaches Zentangle. I researched it and I was pleasantly surprised to see so many great artists doing this kind of drawings. Although many of my drawings and sketches are that kind of style, I had no idea it had a name much less what I was doing it … ' Pretty cool!
You can find many more on my Doodle gallery here
You can also follow my new doodle's account on Instagram at: DoodlingJorge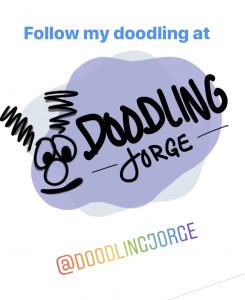 Couple of examples of the types of doodles I make and you will find there follow: