Like many of you parents out there, we have a real issue with  our kids Internet access habits…   They are online at all times, talking to their friends, surfing YouTube or playing multi-player online  games.     The Internet has  become a large part of our everyday activities, so we are not necessarily oppose to these activities, but the amount of time they spend is excessive.  "Time just flies when when you are online"
There's got to be a way for parents to regulate the amount of time and / or the times spent online on a per-user bases, just like they do on Internet cafes, hotels and other public places..   I  found it… 
Frustrated, and mostly at my wife's insistence,   I went searching (online) for something that may be able to help us in our family dilemma…
Some of my key requirements included:
Schedule Internet access time for each intenet users
Set weekly (or daily)  maximum time limits for internet access
No client-side downloading (my kids are administrators to each of their computers, and they could easily disable this)
It turned out to be an interesting exercise, as I had a product lab for what would become an quest!
Several products crossed my home desk (see list below), but what I end-up settling on was a wonderful product by iboss Security called iBoss Home Web Filtering Wireless N Router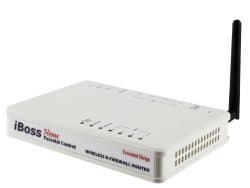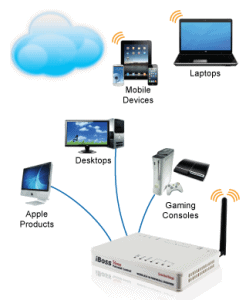 Protecting minors from Internet threats begins with securing all computers including gaming consoles and mobile devices that access the Internet. Yet just one iboss Home protects all computers and devices that access the Internet in your house and provides the ease of centrally managing these devices. The iboss Home combines a multi-tiered approach, advanced layer 7 filtering, deep packet inspection and signature analysis as well a hardened Linux firewall and Wireless-N router. The iboss Home Parental Control Router provides a hardware-based, single and flexible solution to manage all Internet access in your home.
The iboss Home allows you to take control of the Internet in your home or office by restricting the websites and online content to which your children or employees have access. Protect your children from online predators. Block access to inappropriate or objectionable content. Manage children's or employees' time spent using online chat, instant messengers, and gaming. Set predefined schedules for Internet access. Stop file downloads and prevent viruses, spyware and other malicious content from infecting your children's computers. Create different Internet filtering rules for different family member's computers.
Summary:   The iboss Home gives you full control of your Internet. One device can control and protect all of the computers in your home. In addition, the optional Wireless-N signal allows you to control and protect wireless computers, laptops, game consoles, and other wireless devices connected.