I just read an excellent series of 9 blog posts by Hans Brender (aka: Mr.OneDrive | MVP on Twitter) on OneDrive Basics.
(I was planning on doing a simple series, but Hans had already done it – Kudos to him!)
In the first post of his series he begins with the statement:
OneDrive is more than just another network drive with or without a drive letter. It is Microsoft's foundation for collaboration.

https://hansbrender.com/2020/07/20/onedrive-basics-01/
This is SO VERY TRUE ! In fact the Microsoft 365 App (formerly known as Office 365 ProPlus) and is just a part of the entire Microsoft 365 platform !
I love a couple of slides he uses to explain how data is accessed (composite below)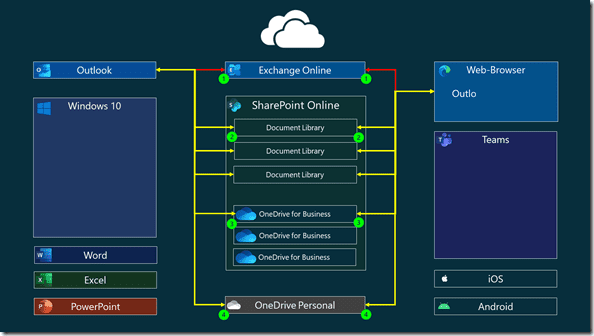 The list of articles he has published as of this writing include:
I learned a lot from his writings and can't wait to read blog #10: OneDrive Basics 10 (Teams).
Thank you Hans or should I say: Mr.OneDrive!