If you're familiar with BDD, and especially BDD 2007, you know that Microsoft has been thrashing around a bit on names for the next version of their excellent Business Desktop Deployment Solution Accelerator. Well, they've finally settled on a very Microsoft-y name: Microsoft Deployment 1.0, available for download on Microsoft Downloads. I must say – this name shocked me when Michael Niehaus revealed it. I would have placed good money down on a System Center appellation.
But, irregardless of the name, MD 1.0 (which doesn't really have the same ring as BDD, but I swear – I'm done commenting on the name!) has improved upon the already excellent feature set of BDD 2007. Let's have a look at BDD/MD's evolution real quick though: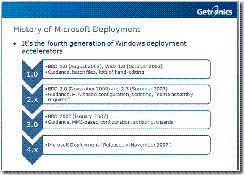 Microsoft Deployment History
Pictures are great and all but what does it all mean? Well, the bottom line is that BDD 2007 was perhaps the best example of a deployment tool from Microsoft that mortals such as me could use and understand. It's also been a highly-successful tool for our customers. So, as you can imagine, I have been following changes to this tool (critical to my livelihood!) closely, looking for anything that will fundamentally alter what we're already doing with clients, or for opportunities to suggest new and better ways of doing things. Let's look at a few that I've found so far. If you've found others – shoot me a comment!
Support for Deploying Windows Server 2008 (kinda!)
One welcome addition for testing labs (such as ours!) is the psuedo-support for easy deployment of pre-release versions Windows Server 2008. I say "psuedo" because MD 1.0 is not intended to roll out production 2008 machines, and well, to be fair, neither are the current versions of Server 2008.
Why I think this is great is that my fellow engineers and me are trying out different configurations on virtual hardware, and being able to re-image via PXE is super-sweet. And hey, the fact that it's restricted to Lite-Touch (LTI) is fine with me. Who deploys servers via Zero Touch anyway? Google, perhaps.
Documentation Wheel Changes
One really obvious change from previous versions of BDD is how the Documentation Wheel works now. It looks the same, but there are some subtle changes here, bringing its terminology into the present and in line with current thinking on deployment.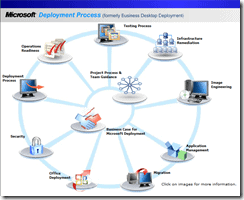 MS Deployment 1.0 Documentation Wheel
For example, the rather confusing "Computer Imaging System" has been renamed "Image Engineering" which makes a lot more sense to me, at least. The documents behind all of these areas have been updated as well, and are well-worth reading. Documentation in BDD has always been kind of a two-edged sword: there's a lot of it, but it seems to be organized in a difficult-to-fathom kind of way. That still plagues MD 1.0, but in all fairness, there is a lot to cover, and I'm not sure I could organize it any better. Suffice it to say, if you are just getting started with BDD/MD, set aside a day or two to read every "feature team guide" that's available from the documentation wheel. The Gestalt of knowledge you acquire will make you better at implementing BDD/MD than any one of the documents alone.
Compatibility with SCCM 2007
A big one for us is compatibility with System Center Configuration Manager (SCCM), and the new ability to deploy XP, Vista and Server 2003 with MD and SCCM 2007. In addition, MD is completely integrated into the SCCM console, and shares the advanced task sequence features with its elder product. Task sequences can be built in, and imported from SCCM, which is really, really nice. Or, if you're newer to the game, you can create "quick start" task sequences and packages from MD that are easily imported into SCCM.
MD 1.0 also extends the available actions in SCCM 2007 task sequences. Those of you who live inside the task sequencer, and have felt the raw power of these easy-to-explain, but hard-to-write-on-your-own automation tools will appreciate this.
This all means that MD and SCCM are ever-more tightly integrated, and if I had to guess, I'd guess that despite MS's protestations to the contrary, MD will eventually be enfolded into SCCM, and will disappear as a standalone product. If anything, I would predict that if a standalone version does persist, MD will become "System Center Deployment Manager."
Oh, and get this, BDD old-timers: you can now deploy to computers that SCCM 2007 does not see! This is kind of revolutionary, if you've struggled with getting all deployment targets into SMS/SCCM.
Multicast
Hang on to your hats, folks. But the biggest feature, IMO, of MD 1.0 is multicast. What's that, you ask? If you've done large-scale deployments over heterogeneous networks, then multicast is just what you've been looking for. Some of the requirements are quite stiff, but if your hardware can handle it, its definitely worth looking into if you're going to be doing significant hardware refreshes or upgrades.
Multicast is a technique in which one image is sent out from the imaging server, and is used multiply by the intended targets. In this way, multiple copies of the image are not being transmitted and overburdening your network.
There's a new type of WDS (Windows Deployment Services) server called a Transport Server, and this is the new piece of the MD/WDS/SCCM universe that allows for multicasting. Read more on WDS in Server 2008 here. If you want to do multicasting, you'll also need routers that are capable of it, and you'll need to watch out for a bug: multicast only works with the boot.wim on Server 2008 install media. It does not work with the WIM from Vista install media. There are other caveats, but they are outside the scope of this article.
Small, but big changes
I don't have the room to describe the full range of changes, but a few highlights are appropriate, before I go::
Lite-Touch Installation: easy migration from LTI to SCCM 2007

Support for multiple task sequence templates

Task sequence rules can now invoke web services – great for keeping a running inventory of machines imaged, or for hooking into existing systems.

Support for offline patching

Support for language pack installation, both on- and off-line

Windows Update integration

Enhanced User State migration (stay tuned for a future article!)
In addition, if you aren't ready to give up BDD 2007, the two products can now be installed side-by-side. I don't see much reason to stick with BDD 2007 if you haven't fully committed to it yet. If you've got a rock-solid BDD 2007 system, you may want to instance a lab before committing.
Overall, I'm liking what I'm seeing, and am looking forward to many, many deployments over the coming year.
Article by Rob West originally published on InfraOps.com