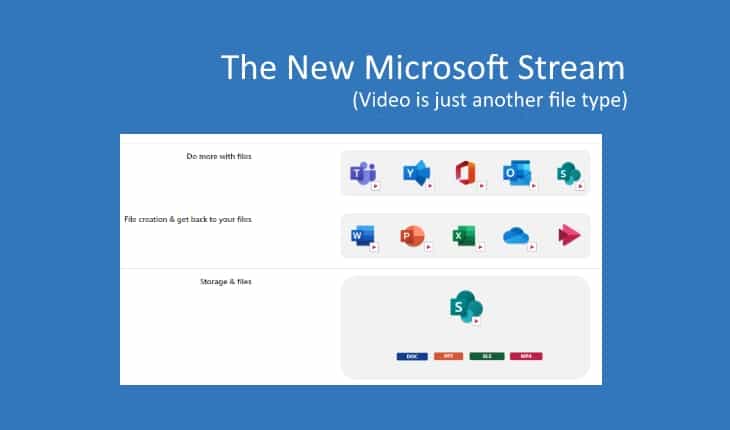 Launched in 2016, Microsoft Stream is a web app for creating, editing, managing, and discovering videos and playback videos. It was loosely connected to other Microsoft 365 apps and service, and videos were stored separately from it.
Back in September 22, 2020, Microsoft published a blog post titled New Vision for Microsoft Stream. In it it revealed that the new vision is to
"… to bring intelligent video creation, sharing, and viewing to all parts of Microsoft 365, while empowering users and administrators to manage video just as they would any other file."
The "old" Microsoft Stream will be called Microsoft Stream Classic while the new one is currently being referred as new Microsoft Stream or new Stream.
Bottom line: Videos become just another file type within Microsoft 365 platform. This is GREAT news!
Key Difference
With the new Stream, video files will be treated in the same matter anywhere you store them within the Microsoft 365 platform.
In the new version of Stream, video and audio files will be stored on the SharePoint files platform within Microsoft 365 like all other file types; already today, SharePoint powers file experiences for Microsoft Teams, OneDrive, Yammer, and Outlook.
Additional capabilities will be added to create Portals with SharePoint templates which will be able to rendered across browsers and devices, based on user permissions.
Microsoft Teams recording will be stored and saved to Microsoft 365 SharePoint or OneDrive just like any other Office file.
Videos will follow the same sharing and permissions model as any other file in Microsoft 365. You will be able to share meeting recordings with people inside and outside your organization like any Office file (based on corporate policies)
Better file analytics and storage management for video files on OneDrive and SharePoint
Migrating to the new Stream
Note that: Microsoft has not yet set a retirement date for Stream (Classic), and has stated that before a retirement date is set we need to ensure that needed video features are rebuilt in M365 and a migration process is announced and in place. (see below links)
Mo
More Info at: