Modern EUC Home
|
Posts
This newsletter contains a few items of interest that have caught my eye in the Modern EUC , Modern Device Management and Workforce Transformation space in the last month or so.
Did you miss me? After a few months break the Modern EUC News You can Use newsletter is back! Enjoy!
This month's highlighted items:
Windows 11  was formally launched on October 5 2021. modern  The upgrade is free and Microsoft is currently releasing to consumer as an option in their upgrades.  What are they requirement key differences and should businesses upgrades now? — Check blog post for a summary of what my thoughts are and what I tell my business customers.. 
Microsoft Teams got some major upgrades in the past few months. From updates to presenter view, to Teams whiteboard to Team breakouts. Equally important a number of other Office 365 tools got some really good updates as well. Some good resources and More details here
Did you know Skype is here to stay? – Yes this was a very unexpected announcement by the Microsoft Skype team – Skype for Business was retired back in August 2021, by the consumer version lives on – Blog post here
Two very good quotes I came across this past month:

"… digital transformation is really a CEO priority — more so than a CIO priority…"

"We are now in the stage of digital transformation where we are not just replacing existing tools — we are now enhancing them."

Check out this blog: Digital Transformation has CHANGED! – Modern EUC Blog
Change can be managed with ease!
The success of the Microsoft 365 platform is associated with how much the users actually use the features available within the different tools. End user awareness and education are critical to extracting and unlocking the full value out of the platform. Change and Adoption Management at the user level, now that we are working remotely or in hybrid more, have become incredible important. I am very proud of the ability and success our team at Dell Technologies Services has been doing in helping customers in this area —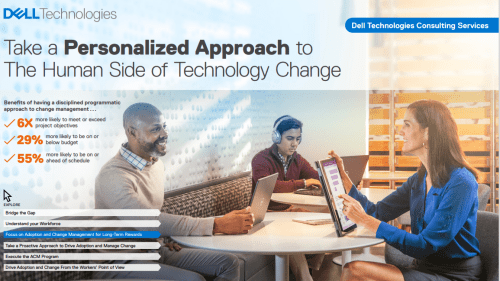 ============: =======================:====================
For a bit deeper dive into the technical side:
More Modern Device Management resources can be found at:
To receive this newsletter via email, you can SUBSCRIBE HERE
Disclaimer: Opinions are my own and not the views of my employer. Information is made  available for educational, recreational, marketing and informational purposes only and is provided as-is with no explicit or implied warranties. ModernEUC.com is not associated, endorsed or sponsored by Dell Technologies.
You can also check out the archive of past newsletters here

If you have any articles you want me to consider including in future blog posts just ping me on Twitter: @moderneuc with some details!