This newsletter contains a few items of interest that have caught my eye in the Modern EUC , Modern Device Management and Workforce Transformation space in the last month or so.
This month's highlighted items:
Windows 10 21H1 is available now and rollout begin! Yes for many of us, seekers at home, the May 2021 update is finally here. Not that there were many changes, as it was a fairly minor update, but it does deliver some important core security, performance updates. In the blog post Microsoft states that they "are throttling availability up over the coming weeks to ensure a reliable download experience for all, so the update may not be offered to you right away."
Included in May's Patch Tuesday Windows 10 Cumulative Update were 3 (yes THREE) fixes to Zero-Day exploits and a total of 4 critical patches. Weather to delay new patches by waiting for a period of time to install patches or not has been a back-and forth conversation for years now. It worked well in the past, but now that everything is "LIVE", the constant and systematic approach used by bad actors to seek vulnerabilities, it would be a good time for organizations that lag patch management to reconsider. Release notes ..

You should be aware that no more security patches will be available for several versions of Windows as they have reached end of service. They include:

Windows 10 version 1909 for Home, Pro, Pro for Workstations, Pro for Education and Windows Server 1909
Windows 10, version 1809 all editions except Windows 10 Enterprise Long-Term Servicing Channel (LTSC) 2019 and Windows 10 IoT Core/Enterprise 2019 LTSC.
All editions of Windows 10 version 1803 and Windows Server version 1803 have reached end of service.
More on this blog post
Microsoft announced that Internet Explorer 11 (IE11) will be removed from Windows 10 on June 15, 2022 (about 13 months from now), leaving the new Edge as the primary Microsoft browser. This does not affect currently supported versions of Windows 10 LTSC. Microsoft Blog post here
Windows 10X no more! — Buried at the end of a May 18 Microsoft blog post titled How to get the Windows 10 Update, Microsoft officially announced that they will not be releasing Windows 10X operating system as a separate variant, but instead will be incorporating all of the "learnings and features" into its current products – (Chrome OS is safe for now 😊 ) More here…

Most IT organizations are finding it increasingly difficult to keep pace with the growing volume of ever-evolving security threats. More than 60 percent of companies have already experienced data compromise due to an exploited vulnerability, and the damages from cybercrime worldwide are expected to reach USD $6 trillion in 2021.
=====: Dell Technologies Services Cybersecurity :==============
Something that is not well known is that Dell Technologies Services has an incredible portfolio of service offerings around cybersecurity, from products to services. covering endpoints datacenter and networking, and tightly aligned to NIST cybersecurity framework.
EUC Related Services
Managed Detection and Response (MDR)
Vulnerability or Compliance Assessment
Endpoint Security Baseline, Encryption
Endpoint Detection and Response
Incident Response and Recovery (IRR)
Cloud App Security
New/Remediated Asset Deployment
Virtual Security Operations Center ( vSOC )
On Prem, Cloud, and Hybrid Active Directory
Network Security (Segmenting, VPN, Firewall, IDS)
Virtual Cybersecurity Team ( vCST )
Chief InfoSecurity Officer ( vCISO
Forensic Drive Preservation, Data
Decryption/Sanitization
============: =======================:====================
For a bit deeper dive into the technical side: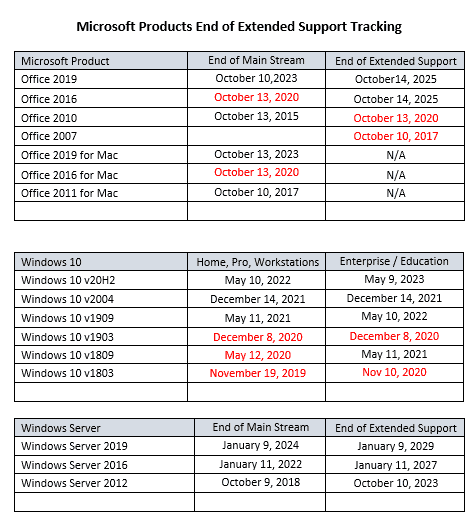 More Modern Device Management resources can be found at:
To receive this newsletter via email, you can SUBSCRIBE HERE
Disclaimer: Opinions are my own and not the views of my employer. Information is made  available for educational, recreational, marketing and informational purposes only and is provided as-is with no explicit or implied warranties. ModernEUC.com is not associated, endorsed or sponsored by Dell Technologies.
You can also check out the archive of past newsletters here

If you have any articles you want me to consider including in future blog posts just ping me on Twitter: @moderneuc with some details!