Android / iOS Platform OS version targeting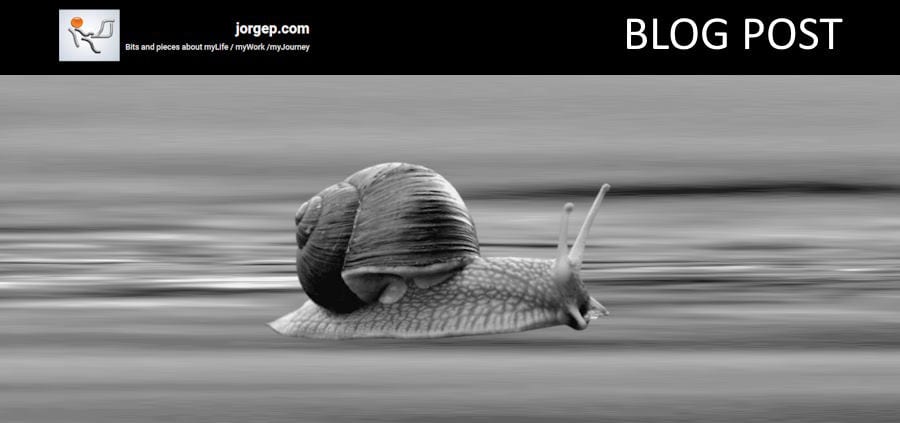 From a development point of view it is interesting to see the difference between the Android and iOS  versions needed to be supported…
While researching, I ran into an October 2012 article on dazeinfo.coma  which mentions that while  iOS 6 Adoption Rate is about 60% iPhones Updated To iOS 6 vs. about 2% of Android have Jelly Bean (v4.x).
This made me think a bit….   How can this be ?  Is this possible?     How can Android platform be so fragmented??  Why don't I have Jelly Bean on my HTC phone?    A few theories came to mind:
The Android OS distribution is controlled by the carriers
There are too many older phones that are not compatible with Jelly Bean
Too many versions too quickly
A couple of disclaimers:
That I know of, there is no definitive place to get Apple iOS version statistics.   Several developers have shared their stats with the world, so iOS column is purely estimated guesses.
Google/Android on the other hand does publish regular updates on their OS Version penetration/distribution.
Data is from different sources and dates may not match exactly.
, as of November 2012,  the statistics (based on visitors to their partner network sites)  for tablet/mobile Operating System  are:
iOS:  61.10%
Android:   28.02%
But the real truth is  that is much more fragmented than this…. This slide from one of Apple's keynotes back in June 2012 summarized the challenge, and importance of the topic: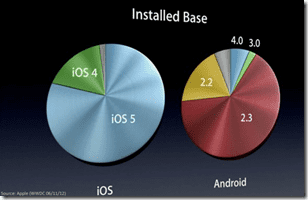 More recent data follows:
ANDROID
iOS

<7% of Android devices running Jelly BeanSource: Android Developer Blog
90% of iPhones and iPads in U.S./Canada powered by iOS 5 or above

Source: ZDNet.com
Even thought Android market share continues to grow, there is a definite disadvantage to the version segmentation.   I understand that  numbers on the newer versions will improve significantly as people replace their phones, but I can only hope Google, manufactures and carriers all make a strong effort towards reducing fragmentation moving forward…