News You Can Use: October 2019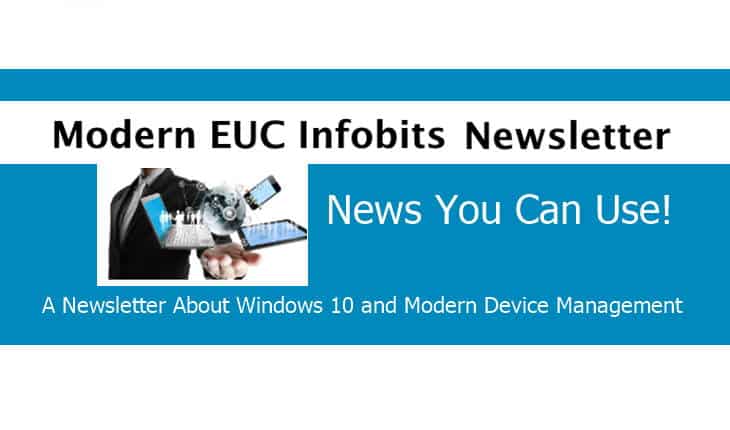 Modern EUC Infobits: October 2019 – News You Can Use!
About this Newsletter
There is so much change in the End User Computing space at the moment that many of us need help and guidance navigate the Workforce Transformation Journey. The change is not only about Windows 10 or Modern Provisioning but about the entire End User Computing services stack.

Every month (or so), I find a short list on EUC related topics which would be of interest to my peers and customers and share it via this newsletter. Hope you find it useful. Please feel free to share with your peers!
900 Million Windows 10 Devices and Counting!
Microsoft has added more new Windows 10 devices in the last 12 months than ever before! Microsoft tweet here
Businesses are moving to Windows 10 fast trying to beat the January 14, 2020 deadline when Windows 7 devices will stop receiving security patches!
Windows 7 Security Updates available post January 14, 20120
If you are not going to be able to migrate all of your devices to Window 10 devices by the deadline, you will be happy to know that Microsoft has opened up the Windows 7 Extended Security Updates (ESUs) program, previously available to enterprises, to all businesses . More information can be found here
Microsoft Recognized Dell as Modern Desktop Deployment Partner of The Year!
Microsoft presented Dell with the "Microsoft 365 US Modern Desktop Deployment Partner of the Year" award at this year's Microsoft Inspire partner conference. This award marks the 9th year in a row that Microsoft has named Dell its top US deployment partner—a record that spans Windows 7, 8, 10, and now M365, which integrates Windows 10, Office 365, and Enterprise Mobility and Security. What does this mean to you? Read more in this blog post
Modern Provisioning with Workspace One White Papers
Three new white papers relating to Modern Provisioning benefits over traditional imaging were published by Principled Technologies in late February. Worth checking out:
New Technology Rolled-out, but Workers Aren't Using It – What Went Wrong?
All too often organizations invest in new technology and when they roll it out to their workforce, adoption wanes and ROI falls short of expectations. Rapid Technology change Is the new norm and with more generations in the workforce than ever before – Baby Boomers, Gen X, Millennial and Gen Z, technology adoption is bound to differ among workers which means organizations change their strategy to realize expected results.
Read about this timely topic in the summary blog post and get the new eBook: Take a Personalized Approach to the Human Side for Technology Change to understand the key components of a successful Adoption and Change Management (ACM) program
Can you migrate the remaining of your Windows 7 devices in less than 55 days?
How is your Windows 10 migration project going?
Will you be fully migrated before January 14, 2019?
How are you keeping up with the Windows 10 updates?
Have you consider Modern Provisioning?

2019 Gartner Magic Quadrant Report Published
Both Microsoft and VMware are on leading the pack of the 2019 Gartner Magic Quadrant for Unified Endpoint Management Tools Links to press releases for both companies can be found here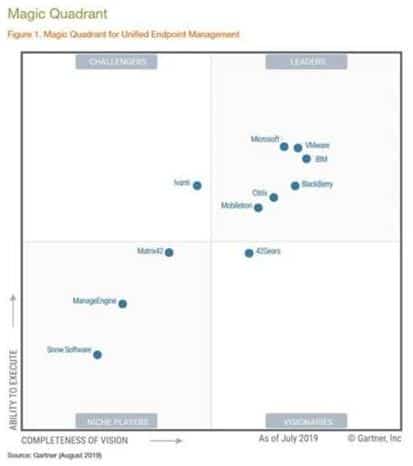 Highlighted articles of the month:
More resources can be found at:
---
Dell Technology Services Support and Deployment team can provide customers great value and guidance to help navigate through the Workspace Transformation changes.
To receive this newsletter via email, you can SUBSCRIBE HERE
Disclaimer: Opinions are my own and not the views of my employer. Information is made  available for educational, recreational, marketing and informational purposes only and is provided as-is with no explicit or implied warranties. ModernEUC.com is not associated, endorsed or sponsored by Dell Technologies.
You can also check out the archive of past newsletters here

If you have any articles you want me to consider including in future blog posts just ping me on Twitter: @moderneuc with some details!