Windows Autopilot is not only for Intune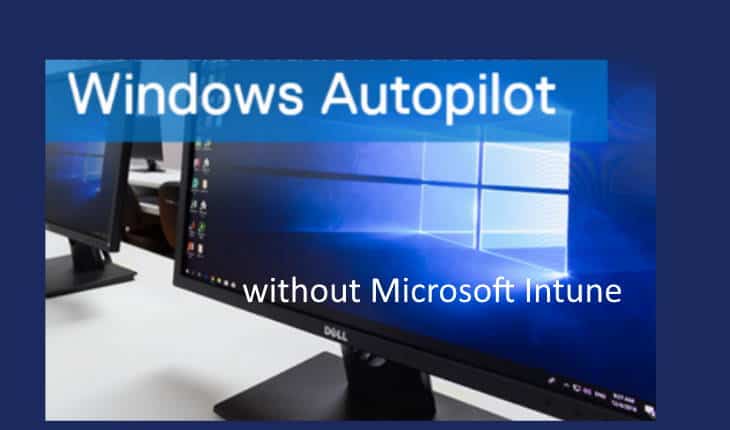 A common misconception is that Windows Autopilot only works with Microsoft Intune
I was recently asked:
If a customer has a different Modern Device Management (MDM) tool can Windows Autopilot be sold to them?
Can Windows Autopilot registered devices be available to organizations that do not use Microsoft Endpoint Manager / Microsoft Intune?
The short answer is YES!! Window Autopilot is independent of the Modern Device Management tool used by the organization. Windows Autopilot does not imply (although Microsoft would like you to believe so) customer must use Microsoft Intune.
Please note that Microsoft FAQ on this topic reads:
Must we use Intune for our MDM?
No, any MDM will work with Autopilot, but others probably won't have the same full suite of Windows Autopilot features as Intune. You'll get the best experience from Intune. Examples of non-Intune MDM configurations with Windows Autopilot:
Outside Azure Active Directory that manages Identity (Authentication and Authorization), for which Windows Autopilot requires Azure Active Directory Premium 1 level, there are three parts to Modern Device Management:
| | | |
| --- | --- | --- |
| Device Registration | Allows the device to be registered to a particular organization prior to leaving the factory | Windows Autopilot |
| Device Enrollment | System enrollment in to MDM system (which provides a management tool to modify device (policies, settings, apps, etc.) | Microsoft Intune, WS1, Mass360 or other MDM |
| Device Provisioning | Execution of MDM instructions based on specific user /device profile including policies, administration templates and applications . | Same tool as in enrollment |
So even if the organization is not using Microsoft technologies for MDM and has tools like Workspace One, Mass360, Mobile Iron, etc, they can still take advantage of Windows Autopilot registration process and benefits.
To take advantage of Windows Autopilot benefits, the organization will need to provide Tenant ID, Domain ID and click on the Microsoft generated link which will grant permissions to the OEM or CSP to allow to send the device unique ID to Microsoft servers ( Device Portal) for that client. Once that is done, then customer can order new devices with Windows Autopilot.
Additional References and Links
A few links to other Modern Device Management Tools and how Windows Autopilot can be configured/ used follow:
---
Mass360:
MaaS360 integrates with Azure AD to allow administrators to pre-configure and enroll Windows devices (Windows 10+ desktops, tablets, phones) with Autopilot. IT administrators can enroll new or re-purposed devices to configure or maintain custom operating systems according to corporate requirements.
https://www.ibm.com/support/knowledgecenter/SS8H2S/com.ibm.mc.doc/pag_source/tasks/windows_autopilot.htm
Mobile Iron MobileIron was acquired by Ivanti on December 1, 2020.
Let me know if you know of others…
6/18/2020 Update: Received the following links from Bentley W — (Thank YOU!)