WordPress Backup Tools (2022)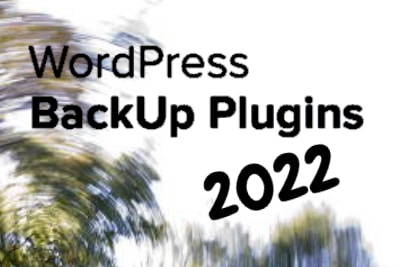 It is time to re-evaluate the backup workflow and tools I use for my websites and some that I support. I do this every couple of years hoping something has changed to make it better. With the release of WordPress 6.0 this week, I needed to backup each site before updating them, so this forced me to review the market and list…
Many are small sites and can be handled by the free versions of the tools out there, but have two that have a lot of content ( have over 5Gb compressed)
To make it easy for me, I prefer to have the same tool for all of the sites, so the free versions do not do..
Able to handle large sites
Ability to store to server's local directory (outside site's structure)
Ability to schedule ( daily/weekly / monthly) with notification of success
Have a self contain all inclusive archive file with database, and files – that I can download and archive.
Easily restore from file
Ideally – can copy / restore to a separate domain (dev or local)
Plugin MUST have been updated in the last 6 months ( WP current minus two version support)
The WordPress Plugin List
This is the list, in Alphabetical order, that I got / compared, as of today, May 26 2022:
Product (Company)
Installations
Price
(Site)
Payment Frequency
Notes
*(1) All-in-One WP Migration w/Unlimited Size Edition By ServMask
4M+
$69
/one time
Unlimited Sites
Backup Guard By BackupGuard
60,000
$25
/year
*(2) BackupBliss –  By Migrate
30,000
$30
/year
BackupBuddy by iThemes
unk
$80
/year
BackWPup
700,000
$69
/year
BlogVault by BlogVault
100,000
$89
/year
Duplicator By Snap Creek
1M+
$69
/year
Super Backup & Clone By azzaroco
400,000
$35
/one time
Total Upkeep By BOLDGRID
90,000
$30
/year
UpdraftPlus By UpdraftPlus.Com, DavidAnderson
3M+
$70
/year
WP All Backup –by WPSeeds
1000+
$22
/year
Unlimited Sites
WP STAGING – By WP-STAGING
70,000
$190
/year
WP Time Capsule By Revmakx
20,000
$49
/year
WPBackItUp By WPBackItUp
10,000
$79
/year
WPvivid Backup By WPvivid Team
100,000
$49
/year
My Selection…
First, let me say that I have used BackWPup for on of my main sites for years, and I love it functionality. Super easy to use and manage – I paid the $69 with the $39/ year renewal because the free version does not include restore capability which is VERY SILLY but was ok with it for that site. Then my other sites started to grow and needed something different —
I have been using free All-in-One WP Migration By ServMask for all of my sites for about a year now – I purchased the Unlimited Size Extension for one time fee of $69.00 ( which can be used in unlimited sites) and I really like it. Large file support + unlimited sites for $69.00 — great value / well worth it.
The only thing I had to get use to is that it uses the WPRESS file format — but no big deal once you get used to it.. Heads up: one mistake I made: Bought the Unlimited extension for $69 instead of buying the another extension which includes the Unlimited one ( example the Direct Extension or the OneDrive Extension) – I checked with them and they would give me a small discount as I am an existing customer but should have bought another extension. Silly me.
Also I know that it does not meet all of my requirements, like scheduling, or store in local directory outside the site structure, but it is fast, efficient and reliable.
Second choices:
My runner up was Backup Bliss the premium verson of the popular free Backup & Migrate plugin in the WP directory! It did meet all of my requirements, and it did very well on smaller sites, but did not work on a couple of my large sites. The price is very attractive too!
New to me ( I am trying it out )
WP All Backup –by WPSeeds They have a subscription model that is very attractive – $19/first year / $11 renewal/year for unlimited sites — Gonna check it out and report back .
Hope this helps someone.
Gonna open the comments on this post to see if any other ideas come up.